A SAD HISTORY OF SACRIFICE
By Arun Babani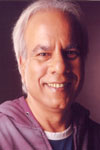 Your Role may be Thankless, But if you're willing to give it your all, You just might bring Success to those who Outlast you.
In the early 50s, as a young boy of 8 or 10, I saw hordes of Sindhi writers, artists, poets, then in their late 20s, swearing by Sindhu Desh, over cups of Irani chai. The laughter and the smoke of their cigarettes being a witness to a supposed coming revolution which would permanently change their lot. Today, in 2008, I'm seeing many of them, infirm on their walking sticks, without a trace of laughter, trudging along, sleepless and heavy.
Last year I saw an old Sindhi poet, holed up in the living room of his 1 BHK flat in Andheri, writing poems on postcards and sending them to Sindhi dailies.  In a shaky voice with sadness he told me "please come some times and take care of me." Last year I saw the great Dr. Arjan Shad. His voice was gone due to some brain abnormality. His house had been ravaged by the torrential rains that came down heavily in Mumbai. He mumbled to his wife to offer us biscuits. I saw that lioness Ms. Popati Hirananandani. She could speak only one word at a time before gasping for breath. She told her nurse to give me whatever I wanted and then caught my hand between her cold palms and cried. I have been watching that great Mr. Kirat Babani. He has lost his capacity to walk, his memory and just stares at the TV screen, no matter what goes on there. You change channels, it doesn't matter to him, he sits and watches the moving image blankly. I saw Uttam Saheb in bandages. He had fallen out of a local train while traveling to his Indian motherland, Ulhasnagar. Last week the firebrand writer Lal Pushp. Bedridden, lost in his own reverie. That laughter, that spirit is gone. He smokes because as he says "I must at least do something"
The list is long . . . . . Mr. Gobind Punjabi. He's lost his capacity to walk, his eyesight, his hearing. Mr. Mohan Punjabi. Long been a victim of a paralytic stroke. Dr. Arjan Sikayal. Mr. Prabhu Wafa. Mr. Ram Krishin Advani. . . . . .
What happens to a revolutionary, who also happens to be a refugee longing for his homeland? Where and how does he face his end? Would it be any different if he would be in Sindh. The questions involve hypothetical answers with too many ifs and buts. One thing, though, is clear, that a Sindhi writer / artist is not dying a fulfilled man. He's still searching, looking for something. That vision, the eternal dream has never left him.
Whether the future stages a 'return' or not, but this generation sure had to pay with their blood, their life, and ultimately their death for that murderous event in 1947. No one will know of this, because history is only about lives, not about deaths. But if some one were to write about the deaths of Sindhis taking place this century, one can connect them back to the partition on India and the subsequent displacement of Sindhis. One can then draw conclusions and lessons from such a history to never repeat such barbaric acts on any people, whether Sindhi or Iraqi or Pakistani. Can we, for instance, see the connection between those events in 47 and Hari Motwani's last wish to immerse his ashes into the river Sindhu, a wish which his friends from Sindh carried out last month? A different kind of history is needed to be written about this generation of Sindhis which may not heal the wounds but at least their immense sacrifice will have borne some lesson, some fruit.