The Platinium People
By Arun Babani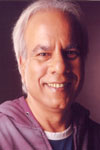 According to the Vedic Tradition, 75 years is the age when a human being is complete and full of wisdom. He/She is then ready to renounce the world and follow the fourth stage of 'vanaprastha'. His entry into solitude marks the beginning of the search for "moksha".
SindhiShaan has brought together a selection of Sindhi writers, all above the ripe age of 75 years. These 'samurais' of Sindhiat were born in the earlier part of the previous century and have decades of writing careers behind them. They have witnessed the World Wars, India's Independence and a whole century of trials and tribulations. We pay our homage to these warriors.
We dedicate this feature to the fond memory of the torch bearer of Sindhiat, Late Hari Dilgir, who passed away while this section was being prepared.
Prabhu Chugani 'Wafa',

Born in 1915, Larkana, Sindh.

Prabhu Wafa is one of the Senior poets of Sindhi community. He is known as a Poet and Thinker, imbued with 'Sufi' thought. A poet of outstanding caliber, he is the first Sindhi poet who composed 'panjkadas', a poem of five lines which is a new form.
Gobind Punjabi, b.1918, Shikarpur, Sindh.
Mr. Punjabi is an eminent short story writer. He is a progressive writer, whose stories depict the sorrows of the poor and down trodden. His output has been substantial with over 150 stories penned and published in many magazines.
Dr. Arjan Nathani 'Sikayal',

Born in 1919, Nawabshah, Sindh.

Dr. Sikayal is a noted poet of the Sindhi community. A simple and sweet man of few words who is influenced by the classical and traditional poetry as well as the New-Poetry movement. He is also a good writer of prose.
Kirat Choithram Babani,

Born in 1922, Nawabshah, Sindh.


Mr. Babani is a man of many images. An orator with an appeal, a crusader for a cause and a writer with an inimitable style and above all a friend in need. His four part autobiography is called, "Kujh Budhayum, Kujh Likayum" (Narrated some, concealed some).
Uttam Assandas Jethanand,

Born in 1923, Hyderabad, Sindh.

Uttam is among the topmost crusader for the preservation and promotion of Sindhi language and culture after the tragedy of partition. Uttam is a writer, critic and a journalist of repute. Several books of short stories and critical writings are to his credit.
 Miss Popati Hiranandani

Born in 1924, Hyderabad, Sindh.

Popati Hiranandani is the most outstanding and voluminous lady writer in Sindhi language, having written over sixty books. She has written in every branch of literature and on every conceivable subject. She has worked from the age of 13 and opted for the teaching profession. Miss Hiranandi has received abundant love and affection from the Sindhi community.
Dr. Arjan Mirchandani 'Shad',

Born in 1924, Sukkur, Sindh

Arjan Shad is an eminent poet and literary critic. He has written romantic and revolutionary poems which are progressive yet emotional. He became a Reader in Sindhi and has a Ph.D. in Sindhi.
Sundri Uttamchandani,

Born in 1924, Hyderabad, Sindh.

Sundri has specialized in short story writing with about 200 short stories to her credit. Her writings are among the best in Sindhi literature. She has also written poetry and short plays. Her work has been translated into many Indian languages. She is also active in various Sindhi women's issues.
M Kamal, b. 1925, Kandiaro, Sindh.
M Kamal is a multifaceted personality. He is a noted Sindhi poet of Ghazal. He has written and directed number of plays and is also recognized as a literary critic.
Param Abichandani-b.1926, Sindh.

Param Abichandani is a prominent writer with an influence from existentialist philosophy of Europe. He has written a few novels but is better known as a short-story writer and a good critic. He is a kind of a research scholar. He was associated with Sahitya Academy for many years. He has also published literary magazines and is good at English language.
Krishin Khatwani, b. 1927, Tharu Shah, Sindh.
Krishin Khatwani is the foremost fiction writer having written over half a dozen novels and scores of short stories. He is one of those, inspired by the great Rabinder Nath Tagore's, Shanti Niketan where he went from Sindh to learn at Gurudev's feet.
Govardhan Mahboobani, 'Bharati' b. 1929, Sindh.
Govardhan 'Bharati' is a loving personality of the Sindhi Community. He is a fine poet and has penned hundreds of poems, most of which are collected in poetry volumes. He also wrote novels, film lyrics and short stories. His impact is felt by most of Sindhi writers and intellectuals, who consider him to be their friend, guide and philosopher.
Hari Motwani, 'Sindhi', b. 1929, Larkana, Sindh.
Hari Motwani is a phenomenon in Sindhi Literature. He has been publishing the literary magazine 'Koonj' for over four decades now. He also publishes literary books and is a major publisher of Sindhi literature and many of his work have won awards.
Dr. Satish Rohra,

Born in 1929, Dadu, Sindh.

Dr. Rohra is basically a thinker and literary criticism is his field of special interest. He is a scholar and Doctor in linguistics who has taught Hindi at Benaras Hindu University for many years. Occasionally he writes fiction and has brought out two collections of short stories. His language is flawless and his philosophical thought is precise.
(Source : "Promoters and Preservers of Sindhiyat" by Mr. Bhagwan Bhagchandani)