GAINS & PAINS
By Arun Babani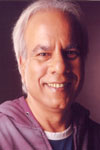 Exactly 58 years back, we Sindhis, at the time only ten lakhs in number, started out on the streets of refugee camps, waiting in queues, with claim papers in our trembling hands and called ourselves names like 'the scattered race', the 'rootless souls' and so on. Today over a crore and a half in number, the world knows us by names like 'the global community',' the internationally present society' and so on. When we had to run away bag and baggage, unceremoniously discarded by the forces of History, we actually ran in every direction like the birds on a flight of freedom and now we are known as the intercontinental Sindhis.
Being present all over the earth all at once poses a question or two: What pains have been incurred by us Sindhis on account of our displacement? And what gains accrued to us on account of our being global?
My family which includes members from my mother's as well as my father's side are present in Mumbai, Pune, Ulhasnagar, Kolkata, Delhi, Raipur, Ratlam, Indore, Banglore, Goa, Ajmer, Nasirabad, Kota, Adipur, Ahmedabad, Lagos, Sydney, San Francisco, South Carolina, Dubai, and Karachi! I'm sure this is Sindhi "Ghar Ghar Ki Kahani". I suppose the immediate loss to me and my family has been that we have to spend a lot of time and money traveling! Apart from the fact that this gypsy situation demands living under hardships, it's also a good way of avoiding unwanted relatives! At the same time, having relatives scattered over the globe provides one an opportunity to taste Mithais from all over the place!
Hearing different dialects of Sindhi language is another reward one can think of. Sindhis from Ulhasnagar may have a different name for the same thing than the one living in Indore; the versatile Sindhi language, on account of scattered (global?) Sindhi speakers has entered a new high of versatility and adaptability, so that a word like 'jhagro' is called 'lafdo' in Mumbai, 'Tanto' in Ulhasnagar ,'Pango' in Delhi, and 'chakalas' in Chattisgarh!
Coming to the serious side of things, the immediate loss one can think of has been to our language, art and culture. By now it is a well known fact that the Sindhi language is on the brink of extinction with the result that the Sindhi art and culture has taken a solid beating. Within the last two decades or so scores of Sindhi schools, colleges, magazines, newspapers and drama groups have passed into oblivion and this disastrous trend continues till this day. With the demise of the language and the arts the popular Sindhi culture has all but vanished from Sindhi homes and halls. The third generation of Sindhis cannot make sense out of anything Sindhi.The situation has been worrying, reaching alarming proportions with each passing day. The Sindhi Diaspora has now woken up to this fact of Sindhiyat disappearing from the face of civilization in coming days and weeks. This is a serious loss that the Sindhis have had to incur on account of being scattered and stateless. Developing and spreading Sindhi vocal culture, forming a world Sindhi alliance, networking of Sindhis through internet, are some of the suggestions urgently being worked out at this very moment.
And the gains of being global? The most obvious one is the economic stability even if found at the cost of too much uncertainty and mobility. My relative in Nasirabad is constantly in touch with his uncle in Mumbai who wants to place him with his cousins in Dubai. My brother called our young cousin to Lagos, the following year the bosses there sent the cousin to Sydney where he called his family and now his wife is busy arranging a visa for her sister in Goa. Over five decades of global movements from Melbourne to Malaysia, from Dubai to Delhi, has made the community a hardcore bunch of travelers, wealth gatherers, early risers, risk takers, lotus eaters and people with strong, resilient digestive tracts!
The global Sindhi has sure built a solid foundation of wealth which can only grow and grow in coming weeks and months. The change from being known as the 'scattered Sindhi' to being known as 'intercontinental Sindhi' has been an act of survival, survival against all odds. A Sindhi has had to make hard decisions based on minute calculations in the face of turning tables and changing realities. The gain of health and wealth has been attained at the cost of art and culture, a no mean task. Now it is only the future course of events which will make out the balance sheet of gains and losses. Perhaps the scene will be something like this: four Sindhi cousins from four corners of the earth meet and greet each other in four different languages, with each accompanying a spouse from four different races, and their babies having a multi-genetic composition!
The wandering one color white cloud has metamorphosed into a high flying multicolored rainbow, and the journey has just begun! God has saved the Sindhis and now it is each Sindhi's turn to save his own God!!