SINDHIAT ON THE RIGHT TRACK?
By Arun Babani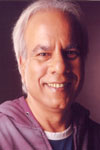 Revivalism overnight in the Sindhi social life! Witness the tremendous upsurge of 'creativity' in all fields of culture, from films to food, in all the corners of the world. The spirited effort by individuals and Sabhas to return to the roots, to chart a new map for the Sindhis. Well folks, seems like it's boom time for Sindhi culture!
Let's pause to consider the heartening facts –
The phenomenal success of the first ever Sindhi television serial, 'Sindhuyan Ja Mela', made by Ranjit Butani, of SindhiShaan, prompted two more such ventures on T.V., with over three hours daily of Sindhi programs currently on air, on prime time.
An original Vasudev Nirmal play 'Amma Jo Peengho', produced by Aseen Sindhi, went on to create history by holding a repeat performance within a month, with plans for an all India tour.
The first original Sindhi children's quarterly is in its third issue, and its editor Dr. Hundraj Balwani is supremely confident about success and a positive response.
Renowned Sindhi theatre director Ramesh Janjani holds a full length Sindhi play every weekend, with tickets being sold-out for every show.
At least half a dozen State Sindhi Sahetya Academies are operational in as many states, publishing and promoting books, magazines, journals, and giving financial help to budding deserving artists.
There are five magazines in English about Sindhis in the city of Mumbai alone : Ranjit Butani's Sindhishaan, Jairam Rupani's Aseen Sindhi, Lal Pushp's Sindhi International, Ram Jawhrani's Sahyog Times and Sindhiyat by Sunder Gursani. Besides there are many more magazines in English on Sindhis being brought out from other cities of India and abroad as well.
'Hindu' the Sindhi newspaper already publishing two editions from Ahmedabad and Ajmer simultaneously, has recently announced a third edition from Mumbai.
Sindhi book publishing is on a steady rise, with dozens of books being written / published by various individuals, organizations and Trusts.
This year there were eight large Cheti Chand melas in Mumbai alone, attended by thousands of Sindhis from all over the city. Some of these festivals have become landmarks on the city's cultural calendar, especially the one held at Khar Gymkhana, hosted by Shankar Lalwani.
Apart from the literary cultural Samelans held in India, there are now at least two yearly meets of Sindhis on an international level.
There are restaurants serving Sindhi Cuisine in many parts of the major cities in India and abroad, and several hotels and restaurants have started holding 'Sindhi Food Festivals' regularly.
Sindhi theatre is witnessing a never before upsurge with originals and adaptations being staged by various talented directors, like S. P. Menghani's 'Mummy Retire Thee Kare', and so on.
Greater enthusiasm, urgency and creativity amongst institutions promoting Sindhiat. The institute of Sindhology at Adipur, National Council for Promotion of Sindhi Language, Akhil Bharat Sindhi Boli Ain Sahit Sabha, Sita Sindhu Bhavan and Sindhi Sangat at Dubai, to name just a few that are active and creative in the cause of Sindhiat.
Sindhi music too is on the upswing. Many new artists have come into the limelight in recent times. Amongst them Ghansham Vaswani and Kajal Chandiramani, hold regular music shows in India and abroad.
Sindhi language classes have been started in many parts of the country, and judging from the response they have received, students are actually enrolling to learn Sindhi. With the recent availability of a CD Rom – 'Lets Learn Sindhi' by Asha Chand, a very handy tool has been provided to the younger generation.
Sindhi Writers' Seminars are a regular feature all over India, where Sindhi writers, teachers, and students meet regularly and present research papers.
DOES ALL THIS SOUND TOO GOOD TO BE TRUE?
THERE CERTAINLY IS A SPURT OF CREATIVE ACTIVITY IN EVERY ASPECT PERTAINING TO SINDHIAT.
SINDHIS HAVE NEVER HAD THE GOING SO GOOD!
YET THERE ARE A FEW GREY AREAS THAT NEED TO BE ADDRESSED . . . . . .
As they say, "All that glitters is not gold." Everything happening in the name of Sindhiat is not entirely worthy of applause. Too much repetition for one. The problem is of discovering and bringing out new talent. This process is very slow, and what is observed is a handful of artists dominating every show, week after week. This is because of the one major problem facing the movement. The youngsters of the community are not into Sindhiat so far. They are not impressed by our cries of going back to Sindh and our chants of 'Ayo Lal Jhulelal.' They want something that touches their lives, their hearts. And so far we have nothing in Sindhi that is youth-specific. The fact that our youngsters are unable to speak, read and write Sindhi further alienates them from mainstream Sindhiat.
Another major drawback of the Sindhiat Movement as opined by many is the lack of unity amongst the individuals and organisations. Everyone speaks, albeit not openly, of how one Sindhi organization is at loggerheads with the other. Of how one Sindhi leader is in competition with the other. This results in a colossal waste of energy and resources, something that can be saved by working together under one umbrella.
The Kutchi Garba became an international dance form through the Disco Dandiya. The Punjabi Bhangra went on to global beats through the Pop Bhangra. Sindhiat need just such an international look now. The Sindhiayat of Sindhi, a hundred years ago, was completely different from this Sindhiat that we are describing. Although it has its roots back in Sindh, it is bound to evolve, mix and change, taking in the local as well as the global smells and scents. So, don't insist on Sindhiat having the same Sindh-like flavour. Actually it is born there, but has travelled far and wide, taking on the hues of most of the world civilization. And what will be born out of this present Sindhiat will be even more global, more ethnic, more universal.
A universal Sindhiat, which is born in Sindh, yet is totally different, a much more evolved Sindhiat is likely to appeal to all classes and age groups. Sindhiat that was born on the banks of the river Sindhu a millennium ago, has by the third millennium spread to all corners of the globe. Unlike other communities, Sindhis by virtue of their guts, compelled by the partition of the sub-continent, have spread their wings in all directions of the universe. The face of Sindhiat today is a multifaceted, multi-dimensional, multi-layered one, spread in all the four directions; and the Sindhiyat born of that persona is bound to be unrecognizable from its original, small, one-dimensional personality. Sindhis know this, and this is what makes them look up to themselves with pride and promise for a future.
A poem titled 'Sindhi', by renowned Sindhi poet Shri Krishin Khatwani, has an apt idea. "Since Sindhis have been forcibly driven out of their motherland, today they have laid their claim on the entire earth as their own. A true Sindhi is a global Sindhi."
RAHENO KO GHAR NAHIN HAI,
SARA JAHAN HAMARA . . . . !!!