DALIP TAHIL – Destiny's favourite child
by Arun Babani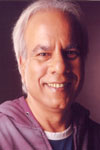 When you think of Dalip Tahil the star, you think of style, of glamour, of sophistication, of class, of privilege, of elite background. But when you meet Dalip Tahil, you meet utter simplicity, a touching earthiness that is clad in a simple cotton lungi and a half sleeve shirt, looking as graceful as the huge Buddha canvas on the wall behind him! So which one of these two is the real Dalip Tahil?
"I come from an army background which was an utterly simple Sindhi cultural background. The fact that my father Mr. Ghansham Jethanand Tahilramani was in the Indian Air Force, so were my uncles may have given us an aura of elitism but far from it, my family, my parents, my sister and me have always been absolutely simple Sindhis at heart." That was Dalip surprising you out of your screen image of him as a glamorous hunk! "I love Sindhi culture; I have a weakness for Sindhi food, Sindhi music and Sindhi people. My father and mother thankfully imparted these pure Sindhi Sanskars to me and my sister and I am so very grateful to them for this." Incidentally Dalip appears to have a great reverence for his parents for, as he says, they sacrificed a lot for him and his sister, especially his mother who cooked an excellent Thoom-machhi for him that he cannot get to eat any more. "Towards her end my mother longed to go back to Sindh but unfortunately we could not take her there" he says sadly.
Dalip Tahil- born in 1952 in Lucknow, studied in Sherwood college, and at 15 years of age traveled to Mumbai, getting bored one afternoon, having nothing to do, looking up the telephone directory, finds the number of Aleque Padamsee, the God of English theatre of those days, calls him up and surprise of surprises, gets invited by Aleque to come over and join him. Thus begins Dalip's sojourn in English theatre where in 1971 he gets noticed by Shyam Benegal who offers him a role in "Ankur", Benegal's first Hindi feature film in which Dalip in turn gets noticed by Javed Akhtar who puts him in touch with the great Ramesh Sippy, the Sholay legend who cast him in his film "Shaan" and the rest, as they say, is history. Today Dalip Tahil considers himself fortunate to have worked with India's best leading directors and prestigious production houses. "I am really blessed that I can make a living out of my hobby, something that I passionately love doing."
Right now Dalip is busy with a ten hour TV show, "Samvidhan" (Constitution) being made by Shyam Benegal again where he plays Pandit Jawaharlal Nehru. Dalip Tahil is also busy putting together his music album, "Yes I love to sing. Its long time since I wanted to cut an album and now I feel the time is right-Oh yes, ofcourse I would love to sing Sindhi songs at Sindhi social gatherings!" Shri Ram Jawaharani and Shri Ghansham Vaswani please take note of this interesting offer from this talented and eligible Sindhi brother who feels a longing for Sindhiat and it would be a compliment to the community to listen to Dalip Tahil on Sindhi stage. Awal Khaire!