NARI HIRA—Royalty redefined
by Arun Babani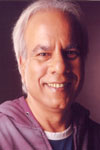 "I am a deeply creative person with an immense passion for art and culture in every form. I personally write/oversee the editorials of all my monthlys, I myself wrote the stories of most of my films that I produced. Money comes secondary to me, what matters the most is an honest to God talent for expressing truthfully and beautifully whatever needs to be expressed." Thus spoke Mr. Nari Hira, the magazine publishing Mogul and owner of Magna publishing company that brings out eleven magazines, including the legendary Stardust, Society and Savvy among others.
At this point during the interview, we slip our quarterly Sindhishaan in his hands. He browses through page by page, visibly impressed and finally keeping it aside, saying "interesting…very interesting…I must subscribe to this…!"
Magna House stands, all of eight floors at Prabhadevi, Mumbai and is the store house cum relaying station of all of Bollywood, Corporate, high society and culture input to most Indian cities and abroad. With branch offices in London, New York and very soon in Dubai, the Magna Empire continuous to grow bigger, better, and swankier.
Mr. Nari Hira (Nandani) is a bright, smart and suave gentleman in his early seventies. Apart from creativity he is passionate about everything Sindhi as well. "I have fond memories of my youth when on Guru Nanak's birthday we would spend the whole night going around the city singing and dancing. And then the Langar and Sindhi Bhagat…oh it was lovely."
He smiles with beaming eyes. "In fact", he continues "my mother taught me a little prayer from Guru Granth Saheb that I recite even now every night before bed time." And off he recites the lines for us, overjoyed like a teenager! Mr. Nari Hira is quite aware of being a Sindhi in today's artificial times. "Many Sindhis, I've noticed are strangely ashamed to be known as Sindhis, they hesitate and hide their identity, which is a pity," he says.
We now touch upon his philosophy in business and life in general.
"I am fortunate to have a great staff. Most of them are with me since inception. I am indebted to them for my success. I, on my part, take good cares of them to the point of worrying about their problems. They are my true assets." Mr. Hira is instrumental in launching many a star through his films, and he is also the source of inspiration to many of his associates, clients and customers.
Sindhi community is blessed with many successful stories, talented individuals and legendary fables. But the life story of Mr. Nari Hira stands in a class of its own, flying fabulous heights while doing so much good for so many people that it appears truly amazing. In this intellectual and creative field of publishing, touching life where no one has touched it before seems like some kind of miracle, a blessing from heavens. Nari Hira has made the Sindhi community proud and we at Sindhishaan salute the indomitable spirit of this true Hira the diamond and wish him many more milestones and landmarks ahead.