THE DISTINGUISHED DOCTOR DEEPAK SADARANGANI
Honored with a Lifetime Achievement Award
by Arun Babani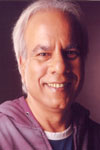 The Sindhi community, particularly the educated class, is a rare mix of tradition and modernity.They belong to a religious mindset along with an open, scientific thinking. The tastefully designed waiting room in the Bandra clinic of Dr. Deepak Sadarangani is a perfect example of just such a progressive mindset. The office is adorned with a huge Gannesha statue with a big Sai baba photo frame and a cute far Eastern Buddha bust along with a couple of abstract modern art canvasses on the walls, indicating the right combination of inner and outer splendor!
Dr. Deepak Sadarngani is a renowned eye surgeon in the Sindhi community and is well known in Sindhi circles in India and abroad. "In fact most of my patients are Sindhis. Although my basic education has been in convents but thankfully, due to my earlier medical practice in Ulhasnagar I can converse fluently in Sindhi." he says. According to Dr. Sadarangani Sindhis have a rich cultural heritage and, "I value Sindhi culture and arts, but since the community is scattered all over the globe it becomes difficult to teach the younger generation about traditional Sindhi values and customs. If only we had succeeded in acquiring a piece of land, our hometown, it would have made all the difference." he laments. Nevertheless, he feels Sindhis have made very good progress other than losing out on tradition and culture.
Dr. Deepak admits that travel is second nature to him and he packs his bags atleast twice every year! "I have been to most of the cities of the world and I'm a travel freak. But today urban India is as good as any modern western city, so professionals and others going abroad tend to value India and Indian culture more and more. Here they find all the glitter and glamour along with that lost felling of belonging to their culture. So modern youth, have come to value their own identity and roots.
Prod him about his other interests and he replies "Well I love to watch movies, listen to good music and above all paint! Yes, you heard right, I love to paint, only I don't find much time for it. I have dozens of canvases at home but I don't display them because they don't come up to my expectations, but I truly love to play with paints, brushes and colours" he says excitedly. No wonder his name spells colors…Dr. Sadarangani-the one who loves colours.
And now here is abrand new feather in Dr. Deepak's cap…A lifetime achievement award, conferred upon him by the Sindhis Medicos Club, presented to him by Shri Anil Harish, the eminent Sindhi icon. We wish him good luck with a final query…about any plans to hang his boots. "No, no, I'm only 56 and I plan to go on working and serving till as long as I can. In fact this lifetime achievement award has inspired me to do better and higher service to the society!!" Well said doctor and we at Sindhi Shaan wish you manymore years of good work, good health and good luck!!
(Citation and award being given by Mr. Anil Harish to Dr Deepak Sadarangani. Others in pic : (L - R) Dr. Dilip Kirpalani, Dr. Kodnani (4th), Dr. H. S. Bhatia (5th)