THE FULL CIRCLE
by Arun Babani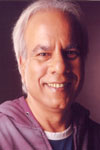 "Live a simple life. Use your power of knowledge for others in society. Help others in whatever way you can, may it be free coaching, giving time to mentally retarded, free lectures on hygiene to villagers and so on."
"We have a charitable trust involved in various charitable activities. We have earned goodwill, trust, and love not only of all our near and dear ones but also of friends and associates at national and international levels."
"Our business policy is our belief in total transparency. We explain right at the very beginning, all the details of the project to the buyer like showing them the plans and pointing out exact areas for garden, jogging track, swimming pool and health club. Besides, when a customer buys a flat or any other premises from us, we offer excellent after- sales service."
"Over a period of 38 years in the business, I have come across many friends, some older to me and some of my age group, from whom I have learnt a lot and I am grateful to all of them for teaching me the lessons of life."
"I give full credit for my success to my parents. My father taught me complete honesty and my mother taught me sincerity."
These honest and sincere words of worldly wisdom are not from any saint or mahatma. These quotes happen to be those of a developer and builder of repute who has carved out his niche among the top ten builders of India.
"Partition of India was an unfortunate chapter in the Sindhi history, but we have forgotten about the bitter past and are happy now."
"The migration to India in hindsight proved to be good for the Sindhi community because the business class got a wider scope and opportunity because of India's huge population."
"I am happy that I was educated in a Sindhi medium school and can read, write and speak Sindhi."
"Complete justice to the Sindhis has not been done. We did not get a separate state, city or village where we could have our own chief minister or headman."
"Sindhis believe in development. Due to lack of infrastructure facilities Sindhis started moving out of Ulhasnagar."
"Sindhis have an inbuilt curiosity and capacity to explore new horizons."
"One trait of Sindhis is that they like to move fast. So maybe sticking to one place is not our nature."
These insightful quotations have come from the same sincere and honest source as the previous ones, only now the gentleman is reflecting as a son of Sindhu Desh, a lover of Sindhiyat, with a strong attachment and commitment to the community.
Ladies and gentlemen, presenting Shri Lakshman Bhagtani, Chairman and Managing Director of Jaycee Homes, a building construction company that believes that a flat is not just four walls but a dream-come-true for its owners. Jaycee Homes, so named after Shri Lakshman Bhagtani's grandparents (J for grandmother Jethibai and C for grandfather Chellaram) is a pioneer in real estate development in Mumbai. The company was founded 47 years back and today the third generation of Bhagtanis is in charge of the business. Jaycee Homes has acquired an impeccable track record for quality construction, superlative designs and state-of-the-art infrastructure. So far the company has executed over 300 projects with 10,000 well settled and happy families enjoying the unmatched Jaycee lifestyle. Shri Lakshman Bhagtani, a graceful and soft-spoken gentleman had taken the mantle from his father, Late Shri Purshottam Bhagtani, and today, his two well qualified and strong-willed sons, Mukesh and Diipesh stand firmly behind him.
"I'm very much satisfied with my achievements in all spheres of life. We have a good public image. We give excellent deliveries with steady output at all times. We maintain good relations with our customers, associates and staff. We have earned a good name and I'm glad that we have earned a good reputation for ourselves."Yes, Mr Bhagtani is a proud human being, a proud businessman, a proud father, a proud husband, a proud grandfather and ofcourse a proud Sindhi!
"At present 90% of the work load is handled by my two sons. My elder son Mukesh is the CEO of the company and heads Marketing, Designs and Construction activities. My younger son Diipesh is into PR, Operations and Procuring new properties. We are a joint family and stay together; I am a firm believer of the joint family system. I have one married daughter and two grand daughters" beams a  happy Bhagtani.
Any specific plans to help the Sindhis in the housing sector?
"I feel now that if building affordable homes for Sindhis is possible then in future we will surely develop such projects. Such projects can have houses with carpet area of 160 to 300 sq ft per flat and the cost can also be less. Such projects can be developed in areas like Panvel and Karjat. We will do our level best to participate in such projects exclusively for Sindhi community." He promises.
That's it. You've heard Mr.Lakshman Bhagtani.what do you think of him? Is he a sharp-witted business magnate? A visionary? An obedient son? A hard task master? A sincere hardworker? A great father? A true soldier of Sindhiyat? A compassionate Boss? A fine human being? I would say, all this and more. He's much deeper than meets the eye. Above all, at 60 plus he's a fulfilled and happy gentleman. who has lived his six decades gracefully in complete surrender to the Divine Will. He has worked hard, dreamt dreams and fulfilled them. He lives in this part of the 21st century but maintains the old-world charm intact. He lives in these times of corruption but carries on with his ethical beliefs and actions. He is what you would call a Full Circle, a perfect man who has shaped and anchored his own destiny. A Karma yogi as well as a Dharma yogi. A complete man. The whole man. The holy man. Amen.
(With inputs from Shri Rizwan Khatri, chief marketing officer, Jaycee Homes Ltd. and Shri Ram Jawhrani's interview with Shri Lakshman Bhagtani in the Global Sindhi series.)
Lakshman Bhagtani with his sons Dipesh (left) and Mukesh (right)