ALWAYS FIRST
SINDHISHAAN REJOICES in showering boundless encomiums on the evergreen CHANDRU THAKUR for his unparalleled achievement of clearing his M.A. in Sindhi with the top rank from Mumbai University at an age at which you see others displaying utter lack of energy and interest in life.
But his pioneering spirit is not something recently acquired. He was the first to manufacture and introduce indigenously manufactured MIXERS in India, when only imported brands like MOLYNEX could be found in the homes of the affluent few. Today, RICO mixers, grinders, food processors and household appliances are proud household possessions throughout the country.
His stellar example will surely go a long way to impel  and inspire the youth to take pride in being part of the wonderful SINDHI COMMUNITY.
HATS OFF TO YOU – CHANDRU
from the SINDHISHAAN Team
THE BALANCING ART OF A TRUE SINDHI
by Arun Babani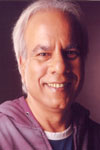 The Sindhi community never fails to astonish and impress you; it is the Sindhi community that is known to turn dust into gold; it is the Sindhi community that has pioneered educational institutions and healthcare facilities in India and abroad; it is the same Sindhi community that has taken its strength and inspiration from three great religions of Eastern fold; it is the same Sindhi community that is known to be Sufi at heart and has built countless Durbars and Tikanas all over the world! A rare combination indeed of the inner and outer riches which has become the hallmark of the Sindhi community.
We happen to meet one such smiling example of this extremely rich and rare culture. Shri Chandru Thakur was born on 17th April 1931 in Sewhan, now in Sindh. Born into an educated family, his father was an Engineer in those days and worked in Karachi and it was in 1947, during partition, that the family migrated to Baroda.
Chandru was sent to London to pursue higher technical experience in Engineering, and he returned in the late fifties. By 1965 he set up his own factory by the name of 'Rico', so named after his eldest son Rajen - Rajen Industrial Corporation. The company has never looked back ever since and the success graph has only maintained its continued ascent. Today, Mr. Thakur is a deeply content and proud father of three sons and four granddaughters. His lovely wife Krishna who has done her Chartered Secretary Degree course from London is one of the Directors of the 'Rico'.
"I am in ishq with Sindhiyat; especially the Sindhi Raag. It is what touches my soul. The great Sindhi Sufis like Shah, Sachal and Sami are full of spiritual wisdom. The search for knowledge is endless and deeply satisfying..."he says with a twinkle in his eyes and bursts into one well known Sufi poem…"Tunhinje hathh dori, tosaan kahri zori..."Its very strange but very true of many Sindhis that inspite of leaving their motherland at a tender young age, most of them remember and are attached to their Sindhi roots like the umbilical cord. The Sindhi culture is vibrating in their heart beats with evermore intensity. "Every Sunday I make it a point to go to Sita Sindhu Bhavan just to be a part of that Ruhani Mehfil…That is where I met Barkha Khushalani, the daughter of Paru and Thakur Chawla, who is one of the main inspirations; besides my wife, behind my MA in Sindhi!" he says, adding "I must also state that the three distinguished personalities that have been a source of inspiration and encouragement and had a tremendous impact on my life have been my Mama (mother's elder brother) – the late Principal N. B. Butani, who incidentally happens to be your editors grandfather, my mother Rukmani and my elder sister Leela."
Today, Shri Chandru Thakur has added another very valuable degree to his already long list of engineering degrees: M.A (Sindhi). He ranked first classs first at the age of 81 years! You can actually touch the pride and joy that he feels at this achievement, as if he has been reunited with his longlost motherland! "Matlani brothers – Professor Baldev and Manohar of the Mumbai University have done a great job and I'm so very thankful to them for their efforts and sincerity. You know, we would touch each other's feet whenever we met because they are my teachers and I am older to them." he laughs. Mr. Chandru Thakur also fondly remembers his MA Prof L.T. Chandwani.
The only reason the publicity shy Mr. Thakur agreed to do this interview for Sindhishaan was that he wanted to create an awareness around learning of Sindhi language and inspire the younger generation as well as Sindhis of all age groups. "The immense joy this learning of Sindhi has brought to me…I wished to share my joyful experience and tell people that age is never a bar for knowledge and learning. At 81 Chandru Thakur still works 10 hours a day and emphasizes that "I would not like to retire until God retires me."
While taking leave of Mr Thakur we notice his library and reading room where he spends most of his time. We notice the Sindhi classics, Shah Jo Risolo, the Sindhi dictionary by Dr. N.A. Baloch, along with modern Sindhi literature.                       
"I have ordered a copy of the Quran Sharief in Sindhi from Pakistan…" he says with a bright smile.
And now, at 81,and two By-passes later, as this energetic young man prepares for his PhD in Sindhi, we come away, highly impressed and astonished at his characteristic Sindhi traits of balancing inner and outer riches in perfect harmony.