The Spirited Life and Times of Rita Shahani
by Arun Babani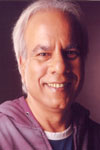 Inspite of the fact that our Sindhi community went through a turbulent partition with subsequent migration and relocation; there are a few rare, brave spirits amidst us who rose and shone despite hardships, coming out as winners in the end. Rita Shahani, perhaps the only Sindhi writer to pen 35 volumes in the last three decades, is one such shinning example of the winning spirit of some Sindhis that is exemplary, even historic. Her spirited success story breaks the myth of the woman being weaker or lesser than man.
Sindhi community, fortunately, is richly endowed with many fine women writers being active since the partition. The distinguished trimurty of Popati Hiranandani, Sundri Uttamchandani and Kala Prakash have together enriched the Sindhi literary garden since over six decades. Then there is Maya Rahi, Indra Vaswani, Tara Mirchandani, among others who have also contributed vastly to the Sindhi literary culture. Rita Shahani has created her own unique space in this evergreen garden, flowered and nurtured her creations on the discerning Sindhi readers.Ms.Shahani is not only loved and respected here in India but has created a vast appreciative readership in Sindh as well, where most of her work has also been published and serialized in magazines. Apart from Sindhi, she has a mastery over Hindi, Urdu as well as English languages.
Rita Shahani was born in 1934 in Sindh and migrated to India in 1947 at the tender age of 13.Her family of Zamindars landed in Lucknow where she did her schooling. She got married at the age of 25 and came to stay in Pune where she continues to stay since then. She began writing poems at the age of twenty and her paternal uncle the great MU Malkani, who is known as the father of Sindhi literature, encouraged her to keep writing. But it was only much later in the 1980s, at the age of fifty that she took her writing seriously and became a full time writer. She has written novels, essays, poems, travelogues and her autobiography. Her work, prolific as well as proficient, is eagerly awaited by the community. Lately Ms Shahani has written a lot on Indian spirituality, a line of thinking she has developed over some time now. Her series, ROOBAROO, the ENCOUNTER, is a highly successful series of biographical stories of the great saints of India like Guru Nanak, Sant Kabir, Meerabai, Osho, Shah Abdul Latif and the living Saint of Sindhis Dada Jashan Vaswani, with whom, in her own words, she is in direct touch at a deeper level.
Incidentally, the city of Pune has been a home to over a dozen Sindhi women writers like, Ratna Godia, Ishwari Jotwani, Tara Mirchandani, Indra Shabnam, Shaku Khilnani and so on. Rita Shahani believes it to be a mere coincidence but perhaps the city of Pune with its historic roots in Maharashtrian culture, coupled with the powerful presence of great souls like Osho and Dada Jashan may have something to do with this miracle.
Rita Shahani has been socially active throughout her life. She has been a member of the Board of Studies of the Maharashtra State Board of Secondary and Higher Secondary Education. She has worked as Vice-President of the Board of Jai Hind High School, Pimpri for 25 years. She also worked as Secretary of the Pune Women's Council which is affiliated to the National Council of Women, Delhi. She is a member of National Council for Promotion of Sindhi language. She has won many awards including Central Hindi Directorate Award, Narayan Shyam Award, Award from Akhil Bharat Sindhi Boli Sahit Sabha, an Award from RJ Advani Trust and a Lifetime Achievement Award from Maharashtra State Sindhi Sahitya Academy, besides two Awards from NCPSL.
Rita Shahani writes "from Gautam Buddha to Osho, everyone has said and taught the same truth.Aham Brahma See.Vedant said the same Sutra as Ess Dhamo Santano, which Sufis said as Anal Haq. Same was uttered by the Buddha, Kabir, Nanak, Meera.Shah Latif spoke of Alaf and Sachal spoke of the meeting with This and That. Its the very same truth uttered in different times and different languages, but it means the same thing I Am That"Ms Shahani has been truly successful at presenting hard metaphysical maxims into fairy-tale-like imaginative stories and make them look, sound, taste and feel like the chirping of birds or the sweetness of honey! She is blessed with such an enhancing and expansive vision of life that any one who comes in contact with her rebellious views is ignited by her liberating spirit.