DR. KARTAR T. LALVANI
Dr. Kartar T Lalvani conferred E&Y Award 2008
Dr. Kartar Lalvani, President of Vitabiotics, has been conferred the world's most prestigious 'Master Entrepreneur Award' 2008 at Ernst & Young Annual Awards Ceremony. The coveted award stands as a testimony to the invaluable contribution of Dr. Lalvani in the field of healthcare. The founder of Britain's first specialist supplement company has redefined the lifestyles of people with his well-researched healthcare and wellbeing products. Today, 'Vitabiotics Wellbeing', selling a legion of health products, is Britain's leading and fastest growing major nutraceutical company specialising in effective solutions for specific therapeutic areas, introducing wholly new concepts in nutrient therapy. One of the most reputed entrepreneurs in UK, Dr. Lalvani is a known philanthropist, he is a generous donor to needy institutions and to charity.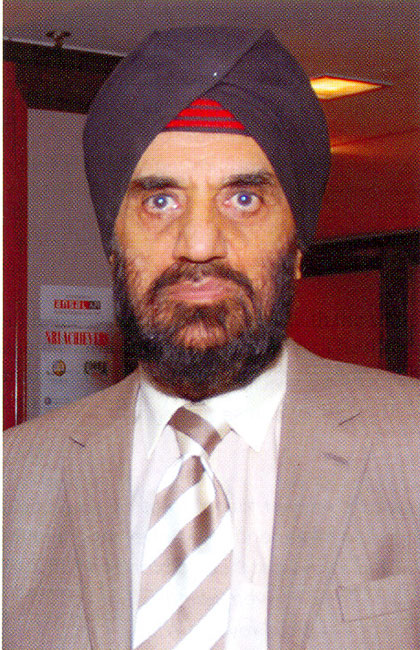 About Dr Kartar Lalvani
Founder, CEO and President of Vitabiotics Ltd:
Dr Lalvani founded Vitabiotics in 1971 and today it is Britain's leading and fastest growing major nutraceutical company specialising in effective solutions for specific therapeutic areas, introducing wholly new concepts in nutrient therapy.  Vitabiotics markets 15 regulatory-approved products in over 80 countries globally and employs 1700 people world-wide, with factories and offices in 6 countries.  It is probably the first British vitamin company to have its products successfully sold and now growing in the major USA multiple retailers.
Qualifications
2007: F.R.Pharm.S Fellow of The Royal Pharmaceutical Society, London
1962 - 1966 : Post-doctoral research and teaching
Institute of Pharmacy, University of Bonn, Germany
1962: D.Sc. in Pharmaceutical Chemistry with distinction (summa cum laude), University of Bonn, Germany
1958: MRPharm.S, Chelsea School of Pharmacy, London
1955: B.Pharm., Gujarat University, India
Personal Awards
B.T. Sponsored Award For Asian Entrepreneur of the year 2002.

Asian Achiever's Award for Trade & Industry 2003.

Asian of the Year' by Asian Who's Who 2004.

GSK Asian Innovation of the year Award 2004.

Distinction in the Field of Science 2005 from The India International Foundation U.K.

DTI Science Award for Innovation in HIV treatment 2005.

Pride of India Gold Award for Enterprise 2006.

Award for Community Service from The High Sheriff of Greater London 2007.
Corporate Awards won by Vitabiotics Ltd.
2000: DTI Export Award for outstanding achievement in export.

2001: Vision 100 Index Award for being one of the UK's 100 Most Visionary Companies.

2003: Queen's Award for Enterprise for International Trade.

2008: Queen's Award for Enterprise for International Trade.
Scientific Milestones
As a scientist of distinction Dr. Lalvani's innovative spirit shows no signs of slowing as he gets older.
DTI innovation award in 2004 for his pioneering work on Human Immune system with excellent survival results in the treatment of HIV patients in a major placebo controlled clinical trial on his Immunace conducted by the London school of Hygiene and Tropical Medicine and published in The Official International Journal of AIDs.
Dr. Lalvani has also received recognition for his important work in the area of nutrition and eye health. A clinical trial by the Dept. of Vision Sciences at Glasgow University, published in the European Journal of Clinical Nutrition and presented at the American Academy Of Optometry, demonstrated for the first time in 2000 that a specific nutrient formula by Lalvani helped with the common conditions of dry eye and age related macular degeneration.
14 clinical studies on menopause symptoms internationally have consistently shown very significant results with Lalvani's micronutrient formula Menopace, introduced in 1992, is today Britain's best selling product for menopause.
The London Metropolitan University recently completed randomised controlled clinical trial of  Pregnacare for socio-economically deprived pregnant mothers in London showed improved birth outcomes. His Pregnacare is the first pregnancy supplement incorporating specific nutrients vital for healthy and safe outcome of pregnancy.  Today Pregnacare is Britain's best selling prenatal nutrient tablet.
Vitabiotics was the first company to introduce magnesium in the calcium formula Osteocare in 1989. Osteocare stands as Britain's best selling calcium formula for bone health.
In 2007 the Integrative Medicine Insights Journal published the results of the benefit of his Diabetone vitamin capsules in the general well being of type 11 diabetic patients.
Hobbies and activities
History:
Dr Lalvani's long-standing keen interest in history has since 2003 stimulated him to research and author a unique book featuring for the first time, the lesser-known other side of the last 100 years of Britain's two centuries of colonial rule in India.   This book narrates the great industrial, civil and social reforms with educational and welfare progress besides the all-important massive industrial and administrative infrastructure provided in the 19th and 20th century India, with much of the early hardware having been transported from 12,000 sailing miles away via the Cape of Good Hope. In the year 1947, Britain left behind, the world's largest and sustainable democracy, with some great institutions like a unified world class Indian army besides an excellent Indian civil service with impeccable judiciary, Parliament and the legacy of good governance.  This factual and illustrated account in 400 pages, with 22 chapters, titled The Making of India is due for publication in the second half of 2008.
Dr Lalvani also enjoys reading, cooking, photography and alpine walking.
Support for charities and other non-profit organisations for the public good:
HEALTH
Dr Lalvani, through his Osteocare brand, is a keen supporter of The National Osteoporosis Society (NOS). As the leading charity for bone health in the UK, the NOS offers support to people with osteoporosis and has been instrumental in bringing the condition to public and medical prominence. Vitabiotics has supported the NOS with a donation for every box of Osteocare sold.
Dr Lalvani has been a personal supporter of WellBeing for over decade, assisting with fundraising through donations, major events and public awareness campaigns. WellBeing, which pioneered medical research into reducing maternal deaths in the 1960s, uniquely works with the Royal College of Obstetricians and Gynaecologists and is dedicated to solving health problems of women.
Dr Lalvani has been involved in an ongoing major support initiative to promote the activities of the National Childbirth Trust (NCT). A leading UK charity in maternal care.
Dr Lalvani joined British Heart Foundation as Heart Pioneer, with special interest in their research into heart disease in children, a matter of growing concern today.
Dr Lalvani supports Britain's leading TB charity for efforts to combat TB and create awareness among Asian communities; where the disease is prevalent in about 80% of the national average.
Dr Lalvani is an active member of the Kidney Research UK and has sponsored several National awareness campaigns amongst South Asian communities in the UK, highlighting that the prevalence of diabetes amongst Asians is five times greater than the national average and, staggeringly, ten times higher for the kidney disease.
ART & COMMUNITY
Dr Lalvani is an art collector and a patron and member of the Director's Circle at the Victoria and Albert Museum.  Through Vitabiotics, Lalvani supports many arts events and foundations such as local community theatre 'Opera for All'.  He has also supported the Ballet Theatre of Harlem in New York City.
Dr Lalvani is one of the founder patrons of Asia House at New Cavendish Street and has helped sponsor some events.
He has always taken a keen interest in social issues and together with Ford Foundation has sponsored the British Council's Oxford Seminars in Corpus Christi College on Tackling Corruption Worldwide.
He has also recently become a partner of the Metropolitan Police Service's project, Operation Quadrant, which is looking at ways to tackle serious and organised crime within the South Asian Community in the UK.
He has supported a new eye hospital for the poor in Lagos and the KVOWRC Foundation in Nairobi for a rehabilitation centre for young, orphan girls.
He has assisted the Beacon Fellowship for the 3rd year in 2005 by funding the advertising campaign in Asian Media to boost its awareness for the fellowship amongst Asians.
Dr. Lalvani has supported regeneration initiatives like BOOST, by not only investing in the purchase of bonds, but also in sponsoring events to mobilise support from the Asian business community in Tower Hamlets.
EDUCATION RELATED CAUSES
Dr. Lalvani has actively supported the National Literacy Trust for several years and the Commonwealth Education Fund.  He has also committed himself since the last 14 years to the Duke of Edinburgh Award World Fellowship developing young people with like skills internationally.  Vitabiotics sponsor the School of Integrated Medicine at Westminster University including the annual lecture as well as prizes for the Nutritional therapy course, funding for their staff attendance at international conferences and sponsorship of Polyclinic seminars.
INDIVIDUAL CAUSES
Dr. Lalvani's commitment to social justice across all ethnic divides was demonstrated by his underwriting the costs for the aerial search for young Joel Kitchen, a British citizen who was lost while paragliding in North India. After reading about the family plight, Lalvani paid for his parents return flight to India and funded a private aerial search in the Himalayas. The news about this spontaneous initiative helped to stimulate Indian participation in the mountain search.
BONDS WITH SINDHIYAT
Interview of Kartar Lawani (K L) by Ram Jawhrani (R J) chairman of Sahyog Foundation conducted on the Sahyadri Channel of Doordarshan on its programme 'SINDHI SARVECH'.
R J :  Sir, we welcome you warmly from the core of our heart. Let our viewers know to which area of Sindh, you belonged originally ?
K L :  We belong to Karachi, where I was born in 1931.
R J :  What was your family business there?
K L :  My grandfather was a railway employee, while my dad had a chemist shop. It was named  J. Tirth & Co., and was established in 1920. When our business grew large, we began manufacturing medicines in 1935. I studied in Model High School, Karachi and after Partition, when we came to Bombay, I completed my matriculation from Sindhi Premier High School and later on, I joined Jai Hind College, Bombay.

R J :  When did you migrate from Sindh?
K L :  We came in 1947 along with other Sindhis.
R J :  Have you studied Sindhi in the Arabic script?
K L :  Of course! I can very well read and write Arabic-Sindhi. After completing my studies from Jai Hind College, Bombay, I received my degree in Pharmacy from Ahmedabad and then I proceeded to London for further studies. From there, I went to Bonn, Germany to pursue my doctorate.
R J :  What was the subject for your doctorate?
K L :  'Pharmaceutical Chemistry', was the subject of my research.
R J :  The Partition and subsequent large scale uprooting of Sindhis  effected the lives of all Sindhis to some  extent. Was your family also affected?
K L :  We were certainly impacted, but not up to that extent. We had to leave all our business and assets behind. The Sikhs were faced with a greater threat, as the Muslims who migrated from the undivided Punjab considered Sikhs their prime targets.
R J :  In which part of India did you initially settle?
K L :  In Bombay, as my father had earlier transferred some savings and purchased a flat at Colaba.
R J :  What was the attitude of other Sindhis of India. Did they help you?
K L :  Morally yes. Nanik Motwani and other Sindhis welcomed every incoming Sindhi. But generally Sindhis didn't receive any great assistance inspite of the fact that they sacrificed the maximum as the time of independence.
R J :  Were the promises made by our political leaders actually fulfilled?
K L :  Namesake only. At that time I was 16 years old and quite active in politics. I kept myself abreast by reading newspapers. We used to travel all the way to Ulhasnagar from Colaba to help the Sindhis in settling down.
R J :  Can you recollect anything of those refugee camps?
K L :  Sindhis were housed in old military barracks of Ulhasnagar, meant for lower class army personnel. I saw for myself the  depressing condition of Sindhis. The most educated and civilized community was struggling for survival. At that time the literacy rate of Sindhis was 95% compared to the average literacy rate of 25% in India. We were the real sufferers. Completely uprooted!
R J :  When did you go to London?
K L :  Initially, I intended to come back from London after the completion of my studies to join my father in the drug manufacturing business. However after my doctorate, as I was keen to do further research, I needed some more time and stayed back in Germany. After some time my brother also joined me. My parents followed us after winding up the business in 1962-63.
R J :  Do you have any business interest in India, at present?
K L :  I was the first Indian to manufacture medicines in the United Kingdom in 1965. We spread our business outside England too and opened another factory in Nigeria in 1970. This process of expansion brought us back to Bombay, where we established a factory in 1980.
R J :  What type of medicines, do you manufacture?
K L :  We manufacture medicines which are also manufactured by many others. But we were the first to introduce a sugar-free cough syrup in India which even diabetic patients could partake. We also introduced a sugar-free antacid, which earlier contained aluminum compounds, a harmful constituent which harmed the brain as well effected libido. We also make various vitamin preparations, to improve general health and keep ailments at bay. I manufacture fifteen medicines in the UK, six of which are already number one in that country.
R J :  I have heard that some of the products made by you in India are also marketed in England. Is that true?
K L :  Yes. There are five products, developed in India and marketed in England. We have another twenty five products and each one of them is unique. Six of our leading preparations in UK are used by women during pregnancy to take care of calcium deficiency, skin care, hair loss etc. These products are officially recognized as leading medicines by the authorities in the UK. We even received the Queen's Award for Excellence for these products in England.
R J :  Any other awards conferred on you?
K L :  I have received several awards. One was for business leadership, another for science from the Ministry of Science. One of our medicine is used for the treatment of HIV. It was tested by a hospital in London and when after three years trial in a government hospital it was cleared for commercial usage, it made world news in Aids Journal.
R J :  Can it prevent AIDS?
K L :  It can slow down the ill-effects of AIDS and improves the health of the patient, so that the body can fight back. An amount of 160 million was spent on trials, which was borne by Nestle Foundation, who also had the honour of naming it. Another award 'Asian of the year' was also bestowed on me, two years back. My son is also a scientist at Oxford, the youngest professor of medicine at Oxford and head of T.B. Department. His research in the eradication of T.B. has catapulted him way ahead of me and brought him in world news. He has been interviewed by B.B.C. News T.V. channel several times. The Indian High Commission had also conferred an Award of Scientist of the Year on him, just last week. We are both working together, in the field of research.
R J :  How do people outside India look upon Sindhis?
K L :  With utmost respect. They hold Sindhis in high esteem for their culture, presentation, business acumen, social outlook and professional work. One Sindhi has become head of a medical association in UK. Sindhis enjoy high respect in that country.
R J :  How do NRIs  view Indian Sindhis?
K L :  They love Indian Sindhis. The recent problem of Ulhasnagar Sindhis moved them a lot. Everyone was concerned about their fate. We were lucky to have Ram Jethmalani to intercede for the community. He is very popular and respected among Sindhis, a selfless person, a person with a sacrificing nature.
R J :  Have you instituted any organization for progress of Sindhi language and culture in London?
K L :  Sindhi Association of UK is the leading organization in London and another one is Sindhi Nari Sabha. Both of them have been active since the last twenty five-thirty years.
R J :  What are their main activities - their aims and objects?
K L :  They promote Sindhi culture among other Non-Resident Indians. We also invite members of the British Parliament and work earnestly in this respect. People over there consider me to be a Sikh and not a Sindhi, but I emphasize upon my Sindhi lineage and tell them that Sindhis are the most cultured and straight forward people.
R J :  Have you faced problems in matrimonial alliances due to your having settled overseas?
K L :  Normally we have alliances in India, specifically in Bombay. But, sometimes we may opt for Sindhis settled in Dubai, Hong Kong, Japan or wherever Sindhis are settled, but always within our community. Inter-caste marriage would not count for more than five percent.
R J :  Which Sindhi organizations aided by you, do you consider  important with respect to their activity?
K L :  My main activities are confined to the United Kingdom. But I do take interest in International Sindhi Sammelans, which are aimed at raising awareness among  the Sindhis of the world. We also participate in our festivals, like Cheti Chand, Diwali in London.
R J :  Generally do you often have  get togethers in U.K.?
K L :  We meet a lot. Sindhis of UK are united and love each other. Sindhis of UK as well as Sindhis in Nigeria and I have quite a good influence on them.
R J :  You being a Sindhi Sikh, believe in the philosophy of Guru Granth Saheb. What does it teach us?
K L :  Sikhism besides Punjab, influenced Sindh to a great extent as its teachings correspond with the nature and culture of Sufis. The philosophy propounded by Guru Granth Saheb and Sufi Saints, like Shah Abdul Latif Bhitai, is quite similar. These similar philosophies help Sindhis to understand Guru Nanik, though we are also influenced by the teachings of other nine gurus and finally Guru Granth Saheb. Shah Latif unfortunately, didn't leave any heir to his seat.
R J :  Do Indian Sindhis lack leadership?
K L : It is a matter of great regret that despite being in the forefront in other streams of life, we have not been able to find the right political leadership. Just one Ram Jethmalani who has sacrificed a lot. Though his regular charges are a million rupees a day, he has been helping Sindhis free of cost and he has helped many even without disclosing his identity. I think every Sindhi should be proud of him.
R J :  Was there a historic movement to unite the Sindhis of the world on a common platform some time back?
K L :  Towards this Ram Jethmalani has constituted 'Forum for Social and Political Rights of Sindhis'. It is a right step in the right direction. I think you Ram, and Ranjit Butani are also involved with Ram Jethmalani, in this venture.
R J :  Do you think, that the Sindhis of the world would unite under this banner?
K L :  I am very optimistic. Because, the man behind it is a selfless person. He doesn't have any personal agenda. We needed such a Forum, since long. Actually the time taken for its inception was also due to his shyness and reluctance. We really goaded him during recent International Sindhi Sammelan in Mumbai to lead us,  to make an association, which he agreed, after a lot of persistence.
R J :  Do you think these Sammelans can help us save our language or do we need to put in more efforts?
K L :  Sindhi are very charitable. Even the establishment of Ravindra Nath Tagore's Shanti Niketan, was due to many Sindhis although Sindhis were a minority community and small in number. Even Netaji Subhash Chander Bose was helped by the Sindhis of Singapore, Hong Kong and Afghanistan, morally, as well as financially. I feel these Sammelans can definitely bring about unity among the Sindhis on a global scale which would benefit the community and go a long way towards saving our language.
R J :  A personal question finally. Tell me about the nature of  relations between Princess Diana and your brother Gulu Lalwani?
K L :  They were very good friends for one and half year. She was involved with Dodi Al Fayed, an Egyptian, only for 6 weeks prior to her demise. Earlier she used to visit Gulu's home and was very friendly with his children, a fact which was even reported in the English newspapers.
R J :  Isn't your family also friendly with Queen Elizabeth?
K L :  You are right. The Queen herself, her husband, the Duke of Edenburgh and Prince Charles, too. We are often invited to parties held in their palace. This way we maintain a close relationship with them.
R J :  I offer my gratitude for your visit and for sharing your views.
K L :  Thank you.