MANGARAM HARWANI – Determined Visionary
By Arun Babani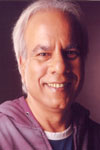 "Destiny is not a matter of chance; it's a matter of choice, and deciding what you want from life is the first step. Direct approach, without any fear; willingness and desire to communicate precisely and frankly; honesty and integrity in dealings; and adherence to the truth at all times has been the mool mantra of my life" was how the self confessed workaholic Mangharam Harwani, affectionately called Ram, concluded the interview with Arun Babani of Sindhishaan.
Amazing life stories are like fairy tales – narrated via anecdotes and incidents which turn out to be life altering events. Mr. Harwani's story is replete with surprising twists and turns and unexpected and unbelievable events that leave you either wondering at the inexplicable laws of the universe or at the benevolence of supernature on its chosen one.
A brilliant, hands on engineer; an exceedingly successful businessman, heading SUNICO AS, ranked among the top 50 enterprises in Denmark with a turnover exceeding 1 billion US dollars; an established freelance journalist; a film producer; a media baron, who established the first terrestrial TV channel 'India Vision' in Denmark; and a staunch promoter of Sindhyat; Mr. Harwani is a multifaceted and versatile personality but with both his feet firmly on the ground. It is difficult to imagine that all this has been achieved in a single lifetime of 60 years only. Unfazed Mr. Harwani goes on to add "But I have so much more to do!" "Not for greater material gains," he clarifies, "after reaching a certain point, accumulation of wealth becomes meaningless. What I wish to concentrate now on is contributing to my community, my country and humanity at large."
Engulfed by a plethora of emotions – amazed, speechless, thrilled and immensely proud – We doff our hats TO THIS UNIQUE PERSONALITY IN SALUTATION. SINDHISHAAN takes pride in sharing with its readers some insights about Mr. Mangharam Harwani gleaned during talks held with him at his plush residence in Mumbai, which clearly manifest his 'mool mantra'
Sindhishaan : (SS)
How about beginning with your early years.
Mangharam Harwani : (MH)
My family migrated penniless to India after partition. From Bhaibund Zamindars  in the princely state of Mirpur Khas we were reduced to a state where several times I was turned back from school because my fees of 4 annas was in arrears. We drifted from Mirpur Khas to Barreilly, to Ajmer where I was born in 1947. My father, perhaps because of the shock, did not survive for long and we moved to Jodhpur. My mother was left with the daunting task of raising the family of 7 children – 5 sons and 2 daughters.
SS  : Something more about those difficult times.
MH : Although I possess an elephantine memory for things that matter, if you ask me what I had for lunch today I can't remember. That's because it is of no consequences and I don't like to clutter up my memory potential. Raise specific questions and I'll gladly respond.
SS :   Fine. If your mother had difficulty paying fees of 4 annas for your school, how did you manage your higher education?
MH : Those were the days when transistors were getting popular in India. My mother coaxed my elder brother to learn how to repair radios and transistors to help make ends meet. After 2 days my brother threw up his hands saying "I can't do it – its too difficult." "I'm sure its not." I interjected. "Well then you learn" was his retort. "Fine," I replied. I took it up as a challenge and commenced my first professional educational stint. I got totally enamoured with the field of transistors and electronics and blessed with agile and skillful hands and a sharp intellect soon became talk of the town, capable of undertaking any type of repair. After college hours I tied up with a shop – I still remember the name "RADIO DOCTOR" and spent my time repairing all the equipment sent to the shop. My reputation spread far and dealers from Bombay started sending goods for repair to 'RADIO DOCTOR' at Jodhpur. I was making a princely sum of approximately Rs. 300/- and could afford to pay for my engineering degree besides contributing to the household expense.
SS :   What made you take a decision to go overseas?
MH : I completed Engineering and stood 1st in India in my favourite subject "Electronics". At the farewell get together in college the principal went around asking the graduates what were their plans for the future. When he came to me I just spontaneously blurted "I will go abroad!" I had decided what I wanted. I possess this uncanny ability that whatever I say turns into reality – it happens. I believe in intuition and my hunches. I will elaborate this later. At that time my brother had set up a shop in Bombay at Mori Road and I thought Bombay would be a good starting point for my career, especially in view of the fact my brother was there with his family and I didn't have to look for shelter. But on landing at my brother's house I found the warmth missing and did not feel welcome. I decided to go back to Jodhpur. The day I was to take the train back to Jodhpur at about 4:00 p.m., I joined my brother at his shop for lunch. Before commencing to eat, in order to prevent soiling my clothes, I spread a newspaper on my lap. I noticed an advertisement for recruitment of Electronic Engineers, in the Middle East, placed by Schlumberger, a multi-national oil well logging company. I called on the telephone number advertised and was asked to report for an interview immediately. I was honest in stating that it would take me some time as I had to take a local train etc. "Take a taxi and come at once" was the answer. Again I was honest enough to reply that I didn't have the money. "Take a taxi, we'll pay for it" was the response. I felt the interview went well as I was able to answer all the questions the interviewers put forth. Needless to add I missed my train to Jodhpur and went back to my brother's house in the evening where my nephew's birthday was being celebrated. "How come you've not gone?" my brother asked. "I've got a job overseas, I've to go to Dubai within a week!" I said this without knowing I was selected. It was my hunch, my intuition.
SS :      Then what happened?
MH :  The next morning I got my appointment letter and was asked to report to Dubai within a week. I had no passport. But I didn't panic. I went to the passport office. There were touts all over the place promising a passport in quick time for a fat fee. No I said, to myself - take the direct approach. I met the officer concerned and related my predicament. And he was able to provide me a passport the following day based on the recommendation of my landlord at Jodhpur who was a magistrate and whose recommendation, received by telegram, sufficed, as I had been advised to do by the officer himself. And the following week I joined duty in Dubai where I had to repair and service instruments on the oil rigs in the desolate desserts of the Middle East. That's how in 1968 I began my career.
SS :           What made you move to Denmark of all the places?
MH : During my stint with Schlumberger in the Middle East, I worked in Dubai, Bahrain, Iran, Iraq, Kuwait, Oman and Qatar, wherever the company had its operations. The company policy provided for 1 week of paid leave after 4 weeks of continuous work at the remote locations. Mind you they paid well, including for travel during the 1 week of R & R. period. Also within a short time I had established my credentials as a repair wizard in Dubai and in fact I was making more money repairing electronic equipments during the 1 week holiday than during the 4 weeks of official work. During one of the breaks I decided to go to London. I stopped at Frankfurt en route, as my company's offices were located there. Lying in my hotel room one night I heard a boisterous group of Pakistanis in the adjoining room, who had undoubtedly consumed a lot of beer, criticizing Denmark vehemently. There and then I decided to find out why; and cancelled my flight to London and took one to Copenhagen instead. I was pleasantly surprised. I found the people warm and friendly and the country clean, attractive, efficient and to my liking. One day I walked into a store to purchase a calculator and while I was buying one – my gut feeling, yes once again, I said to myself – I'm going to own this shop one day. My decision to move to Denmark was thus made; and I moved to Denmark in 1971.
SS :   Amazing! Can we go back to your earlier mention about the role of hunches in your life.
MH : Ah, yes! As I said I have a strong sense of intuition or sixth sense. You won't believe it at times when an aspirant for a job in my company, walks through the door for an interview, I know he's the right choice and I hand him an appointment letter without asking a single question. Till date I've not erred in my judgement in such cases. Alternately there are times I ask a candidate to leave without asking him a single question as I get the feeling he's not the right choice. My children at times accuse me of being a little rude and blunt and my response is "Why waste time – his and mine – when I know I'm not going to employ him?" But I'll relate 3 of the innumerable incidents, to give you an idea about what I mean.
Once while traveling to Bombay with my wife and after checking in at Copenhagen airport I got an uneasy feeling and told my wife we're not traveling. We cancelled our tickets got back our luggage and went home. Later we learnt that flight was hijacked.
Another time we were taking a flight from Bombay to Dubai and due to some goof up my wife's name was not on the manifest. Normally I would have stood my ground and insisted on boarding but that day I decided "to hell with it" and took the flight to Jodhpur instead. That plane to Dubai crashed.
Yet another time I was on a 'ROUND THE WORLD' trip with my family. We had reached New York and were to proceed to Mexico, then around the Pacific to Japan and then return to Europe. While waiting to board the flight at New York, I decided to cancel the tour and fly back to Copenhagen. I reached Copenhagen and learnt that my scheduled flight from New York had crashed. Also when I reached Copenhagen I found my mother had just arrived from India. The cable intimating her intended arrival had not reached me and I had no clue about her planned trip to Copenhagen. She would have been at sea, completely lost in Copenhagen, all by herself, if we had not returned!
SS :   Can you tell us something about your foray into film production?
MH : It all started with the effort to bring the ties between Denmark and India closer. There was an abysmal lack of knowledge and information about each other. My first film was 'Pyar ka Tarana', made with Dev Anand, and was shot entirely in Denmark. In fact my daughter Pinky has also acted in a few Hindi films.
And now I want to enter the Sindhi film scenario. On an average 1 Sindhi film is made every 5 years. I want to reverse this trend and make 5 Sindhi films in 1 year. There are so many affluent Sindhis in the film industry, why have they not done something to provide a good product in Sindhi so far? I want to prove that Sindhi films can be produced, equal to the best in Bollywood – production features, techniques, entertainment et al, and also fare well commercially. If regional films like Bhojpuri films can have a committed viewership, there is  no reason for Sindhi films not to do well.
My first effort "Pyar Kare Dis" is complete and scheduled to go for approval to the Censor Board soon. It's a social drama directed by Kamal Nathani. Jagjit Singh, Shaan, Richa Sharma and Roop Kamal Rathod have sung in Sindhi; probably for the first time. I plan on a commercial release throughout India and overseas with subtitles in Hindi and English. I am not looking only at Sindhi but all India and international viewership.
When I first announced the film people labeled me as a 'fool' for producing a Sindhi film. But I'm here to prove the critics wrong. People will realize that I mean what I say when they see I'm here to stay and not a 1 movie producer. Besides the Sindhi community of about 5 million across the world, not counting Pakistan, I am treating the entire world as a potential audience because of the subtitles and production qualities I intend to deliver in my films! You can take it from me, we will meet again after 1 year and continue on this subject! Initially to promote the film I'm even prepared to distribute 2 lakh DVD's of the film to Sindhis all over, at my cost.
Amazing man! What can one make of such a dynamo; a powerhouse of energy who says "I can't go to bed if there's even one unfinished task of the day!" Who is up at 4:00 a.m., even on the coldest winter morning in Denmark, reads all the papers from across the globe, then tunes in to the worldwide news on TV – CNN, BBC etc. to keep himself absolutely abreast of the world scene, and reaches office at 6:30 a.m. and finishes his routine work for the day by the time the office officially opens at 9:00 a.m. and the staff start walking in. His company SUNICO AS is a leading supplier of electronic goods – mobile phones, telecommunication equipment throughout Europe.
HIS FAMILY :  Mangharam Harwani is a proud father of three children all of whom are brilliant professionals in their chosen fields. Sunil, the eldest child, graduated from U.K. with a Bachelor in Engineering and moved to Denmark to become a successful entrepreneur. He married in 2004, the beautiful Nisha Kalwani from Dubai. Nisha is graduate from the Fashion Institute of Technology, U.S.A. Pinky, Harwani's daughter, graduated from U.K. in business studies. She worked as an investment Banker all over in London, Singapore and Mumbai. Harwani's other daughter Kavita is a Bachelor in Law from U.K. and worked as a corporate lawyer before joining her family business in Denmark. Above all the Harwani family is close knit and they all speak Sindhi, and take pride in their heritage and culture.