DR. DAYAL ASHA – The Multi Faceted Genius
By Arun Babani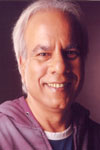 Sumran, Seva, Sadhagi, Humdardi ain Pyar
Chimkan Guna Janhanme Ihe, Chimke So Chaudhar! – a Doha By Dr. Dayal Asha
Dr. Dayal Asha's life and work have always had three important aspects. First is his major role as an educationist, (after acquiring PhD he was the first to obtain a D Litt in Sindhi). Second is his impressive role in the literary field (he has fifty books to his credit). Third is his massive contribution to social and missionary work (he is the associate chairman of the Janta Janardhan Parishad Trust). "All these three qualities of education, creation and service are with me since my childhood." says Dr. Asha who has worked tirelessly for seventy years of his life towards educating, writing and serving the less fortunate children of God.
Dr. Dayal Asha's academic career is quite illustrious. He was appointed as the first professor emeritus by Hyderabad Sindh collegiate Board, Mumbai. He served as the Head of the Sindhi department and was the principal of Chandibai Mansukhani College, Ulhasnagar.He guided many Sindhi students through their M.Phil and PhD degrees. He did his doctorate under the guidance of Dr. C C Prabhat of Mumbai University. "I was blessed by great educationists like Barrister Hotchand Advani and Principal K. M. Kundnani." he fondly remembers.
Besides his role as an educationist, his literary contribution to Sindhi, Hindi and English has also been remarkable. With fifty books to his credit,Dr. Asha has been a successful poet and essayist. In an introduction to Dr. Asha's 50th book-Adbi Surhaan, Dr. Baldev Matlani writes "Dr. Dayal Asha touches your inner self. His basic qualities are remembering God, true human friendship and love for the motherland." Dr. Asha's writings basically look deeply into the human society, and after feeling the pain he uses his pen as an instrument to change the unfair social structures. Although he has written a lot on old traditions his voice comes alive when he describes the blessings from his Master.
If you are the singer
I am the song.
If you are the doer
I am the destiny.
Our paths are the same.
You had sung the song of Asha
And we are together since ancient times.
Dr. Dayal Asha is first and foremost a Sufi poet who longs to be one with his creator. Apart from thousands of poems, Ghazals, geets, nazms, dohas, Dr. Asha has written a lot on spiritual matters in the form of essays and research papers. "I got my inspiration and guidance in writing from such great souls as Shri Parsram Zia, Dada Hundraj Dukhayal and Prof.Ram Punjwani. All these pure souls guided me in the art of writing and reciting poetry." he remembers. His poems have an echo of national integration as well as spirituality. He is not only a poet but a singer too, and he has composed music for many of his poems.
Coming to his third sadhana, the social missionary work, Dr. Asha seems most pleased with himself when he speaks of his spiritual Guru-Sadguru Swami Shanti Prakash Maharaj. "He used to treat me like his son." A light shines on his face when he talks about his beloved Master. "He taught me that the service to mankind is the mother of all virtues." Dada J.P.Vaswani has written of Swami Shanti Prakash that there is a fragrance in his name and music in his memory. He worked day after day, giving solace to those in need of comfort, and brought joy into their lives. And so service to society has become a major mission in the life of Dr. Dayal Asha today. The Swami Shanti Prakash Ashram overseas temples, dharamshalas, Shanti Prakash high school, Radhesham Gaushala, Swami Sarvanand hospital, Yoga ashram, and an Old Age home that is free for the old and helpless. The Trust spends over 70 lakhs annually, helping widows, blind people, needy students, needy patients and so on. Besides there are Shanti Prakash Ashrams in Brindavan and Hardwar as well which offer free facilities to the pilgrims.
Such immense social service requires funds, energy, dedication and above all saintly blessings. "Everything is happening from above, I am only a Medium" avers Dr. Asha. Throughout his life, although he has held many important positions, both literary and educational, and received many many awards and trophies, he remains a humble and happy man. "All my four daughters are married, so now I will continue to work for the betterment of society."
All we can say is Salaam Dr. Asha! Sindhishaan wishes him great success in the noble cause. May he live a long and healthy life to achieve the goals he has set for himself.