CHANDER MANGHNANI – the complete man
By Arun Babani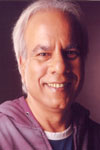 Mr. Chander Manghnani's social achievements are truly formidable. His worldly shoulders carry so many different organizations at various levels of responsibilities. Take a look:-
The International Sindhi Panchayats Federation, Sahyog Foundation, Priyadarshini Academy, Sindhi Youth Circle – Ulhasnagar, Sindhi Sewa Samiti Trust – Adipur, We Care Trust, Manghnani Charitable Trust, Jyoti Kala Mandir, among others. An organization resembles a human being in that it has a face of its own, a heart of its own and a world profile of its own. Mr. Manghnani who has been at the very center of all these organisations has been their very soul. Chander Manghnani has been blessed with a heart of solid gold: it is a pure 24 carat heart that sees, helps and empathizes with all sections of society, particularly the Sindhi Samaj.
It is observed that if you want to know a person, look at the way he relates with people far and near to him. Chander is true, sincere and committed to every relationship. To his parents Chander has been an able and devoted son. Late Shri Gobind Malhi called him "the able son of an able father". The love and devotion for his parents has blessed him throughout his life and he says that he is what he is because of his father Mr. Murij Manghnani. He has been a good brother and an excellent husband too. All this is evident from their joint and well knit family in which every one related to Chander Manghnani has love, respect and a soft corner for him. As a father to his daughter and son Chander has been a great success, and both his children are doing well and well settled in life. As the MD of Hotel Rosewood, which is known as the cultural hub of the Sindhi society in Mumbai, and is lovingly referred as the Sindhi 'Ottaque', he has built trust and confidence in his staff as well as among his business clientele. He once observed that the last time he hired a staff member was over twenty years back; once a person joins his establishment they never look any further. About his philanthropic and social work in the Sindhi community it is a well known fact that Mr. Manghnani helps many social causes related to Sindhi Art, Culture and Language, and has been awarded for his tireless efforts on several occasions. As a true friend Mr. Manghnani has been the proverbial friend in need all his life. Above all is his devotion to his spiritual Master Shri Satya Sai Baba whom he visits every year in Puttaparthi.
When a man has so many aspects to his personality and plays so many roles all at once it is possible that he falls short once in a while. But not Chander Manghnani, who through some unknown force and strength keeps everything and everyone going gracefully and beautifully. Perhaps because he is a man of unflinching honesty who keeps enough energy first for the family, then for business, and then social engagements, and a little that is left he keeps for himself and his Guru. And so every thing fits in, there are no loose strings, no greed for more, and no rush-hour stress, for, as he says, he has no shopping list any more nothing to get, nothing to desire, nothing to wait for to happen, all is achieved, all roads traveled, everything seen and done. He is now in a complete state of spiritual balance or, as the ancient ones called Paripooranta, available totally to life and people around him, in tune with the entire universe that makes him share, care, serve and give wholeheartedly back to existence.