THE MIRACULOUS MURIJ MANGHNANI
By Arun Babani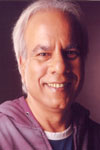 In giving that we seek, we keep the abundance of the universe circulating in our lives. – Dr. Deepak Chopra
The word 'Affluence' comes from the root word 'Affluere', which means 'to flow', so affluence means to flow in abundance. Another word for money is 'currency', which also comes from the word 'current', to run or to flow. Therefore the spiritual law of money is that if we hold on to our money or hoard it, we will stop its circulation back into our lives as well. Since it is a flowing energy, in order to keep its circulation coming back to us, we have to keep the energy circulating by giving and sharing. Like a river, money must keep flowing, otherwise it begins to clog, to stagnate and suffocate its very own life force.
Another important law of life is that the easiest way to get what you want is to help others get what they want. So if you want joy, give joy to others, if you want love, learn to give love, and if you want material affluence, help others to become materially affluent.
His miraculous vision of creating wealth and then abundantly sharing it has guided the youthful eighty year old Murij Manghnani throughout his long innings at the corporate pitch.For,he has passionately believed in creating and distributing his wealth for worthy causes all his life. "Charity begins at home," he says "and so when I first became capable of sharing the burdens of my fellow human beings I thought of my Sindhi community. It was Mr. Gobind Malhi, a close friend who started me off in this worthy direction of helping the Sindhi artists, writers, poets and so on. Since the Indian government was not so much concerned about our community, we decided to take the matter in our own hands. We instituted awards for struggling Sindhi creators, we set up Sindhi institutions, and generally offered help and hope to our displaced brothers and sisters. Another great soul of Sindhiat Dada Hundraj Dukhayal inspired me a lot. On my first visit back from Dubai, in the mid fifties, I brought a tape recorder and went straight to Adipur to be with my Dada and tape his poems. He was a man with a fire in his heart" he remembers.
Together these two passionate souls filled Dada Murij with enough inspiration to serve his Sindhi community. "I don't much care for the ritualistic religion. So I don't offer anything to Tikanas and Darbars. My concern is for Sindhi art, culture and language, the real roots of a Sindhi. We must educate our Sindhi students in the true Sufi spirit of our great tradition as envisioned by our saints Shah, Sachal and Sámi. Everybody seems to know here that Kerala is a 100 per cent literate state, but few know that even Sindh was a 100 per cent literate state. Even today a poor Sindhi will always educate his children. He may be selling pattice bread but his children always attend school. This is the true Sindhi culture."
In his long and illustrious career as the head of a business empire Mr.Manghnani has seen life at close quarters. He has been instrumental in sending thousands of Sindhi youth to work in various international locations, thereby helping countless households to stand on their feet. But the story of his magnanimous philanthropic work is truly amazing.
Murij Manghnani and family has done some pioneering work in the twin cities of Gandhidham and Adipur, where they helped in setting up Gandhidham Maitri Mandal, a charitable trust, along with the visionary Dada Hundraj Dukhayal.The Mandal runs over a dozen schools, colleges and nurseries for Sindhi students. Also, at Adipur the Manghnanis have set up a full fledged hospital of 46 beds, complete with Dialysis and Cardiovascular facilities. Named after their grandfather it is known as Jiwatram Manghnani hospital. Further in Adipur itself, Mr. Manghnani is associated with the Indian Institute of Sindhology which also runs schools, colleges and has built an artists' village named Maleer for Sindhi writers and artists.
Apart from Adipur, Manghnani is associated with Sindhi Youth Circle in Ulhasnagar, a socio-cultural organization of 42 years. Here the Circle has built a gymkhana in the name of Mr. Murij Manghnani. The Sindhi Youth Circle has done a lot of worthy work in the field of education, health care, sports and culture. In Dubai, the work place of Manghnani, he has been active in Indian High School and Indian Sports Club, a project materialized by him in the early seventies, is today the largest Indian school anywhere in the world, outside India. With 8000 students, the entire school is centrally air conditioned, with over 80 school buses and is considered to be the cheapest and best school in Dubai.
Back in India, the Manghnanis have set up a Manghnani Charitable Trust which is currently building a Home for the Aged in Lonavala. Besides this, they are associated with the We Care trust which does some pioneering work in the field of Thallaesemia.And apart from all these huge projects, no Sindhi charitable project is complete without contribution from the Manghnanis, be it for staging a play, publishing a book, or setting up a computer room.
Such a massive philanthropic contribution naturally is not only about dishing out cheques, but it is about caring and seeing each project through without unnecessary delays or excuses. It is very clear that the Manghnanis, with Murij Manghnani as their captain have won the blessings of the Sindhi community.
According to world famous philosopher and therapist Dr. Deepak Chopra, success in life could be defined as the continued expansion of happiness and progressive realization of worthy goals. According to Dr. Chopra, success has many aspects and material wealth is one of the components. But success also includes good health, energy and enthusiasm for life, fulfilling relationships, creative freedom, emotional stability, a sense of well being and peace of mind. Ultimately, true success is the experience of the miraculous in our life. When we begin to experience our life as miraculous expression of Divinity then we will know the true meaning of success. Mr. Murij Manghnani, with his miraculous divinity has truly succeeded on all these accounts mentioned by Dr. Chopra above, and no wonder whoever has been in touch with him, big or small, humble or mighty, have all been touched by this miraculous Mr. Manghnani.
BIRTHDAY CELEBRATIONS
The great grand young man of the Sindhi community Shri Murij Manghnani celebrated his 80th birthday on 16th Feb 2007 in a style and manner befitting an emperor. The rich gathering of global glitterati amply reflected the high esteem this gentle and humble soul commands – a man of action, totally dedicated to the welfare of the Sindhi community and humanity at large. We at Sindhishaan salute this honourable human being and wish him health and success in his mission.