SATGURUS  - FROM FRAMES TO FAME
by Arun Babani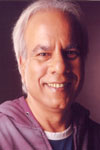 Shri Prakash Babani is not a God. Not even a god man or guru in the regular sense of the word. And he sits all day in the company of the likes of Ganesha, Gautama, Meera, and Krishna.
The fact that he has developed an aura around himself is not an accident then. He actually emanates an impression of a simple yet holy soul, a being having experienced a deep knowledge of the esoteric sciences like Vastu and Fung Shui. Actually Prakash Babani is the owner of the super store of artistic godliness known as Satgurus, at the heart of Linking road Bandra, one of a kind — a mammoth, four storeyed set up that houses besides Gods and Goddesses, a large and stupefying collection  of objects d'art from all over India.
Like a music store owner need not be a musician although he must have a musical heart, a feel for melody, the art shop owner like Babani has a tremendous feel for arts and crafts. Says he, "I can immediately tell from what a person buys, what sort of a person is he!" This intuitive perception has earned him a lot of respect from his clientele and associates.
Babanis were into photo frames right from the early 20s in Hyderabad Sindh. At partition, the Babanis migrated to India and set up their frame shop in Fort, then one in Kalbadevi and much later one in Bandra. Babani confides, "In those early days photo frames meant only those of Gods and Goddesses. It is only recently that many other types of paintings have come into vogue." Mr. Babani has many valuable insights into the Sindhi community. "Sindhis are basically showy and prefer flashy things. The colors they go in for are gold and red." Further he comments, "Sindhis coming from abroad have more value for Sindhi culture, even their young children are quite eager to know and learn about Sindhiat."And finally, in his own way he has studied Sindhi values, "Sindhis have it in their genes. The hard work, the sacrifices that an ordinary Sindhi goes through so effortlessly is because of their cultural genes. No matter if a Sindhi is form America or Ajmer, he will be hard working and well placed. It is just the very natural destiny of a Sindhi to be doing all that he does. It is a common character of the community."
May the Gods always be with Prakash Babani, the pride of the Sindhi community.
| | | |
| --- | --- | --- |
| | M F Hussain at Satgurus | |
| Shri Prakash Babani | | |