Pioneering Woman Entrepreneurship
by Arun Babani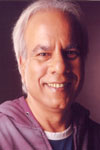 Homeless and penniless, leaving all their possessions behind in Pakistan, and coming to India, with only 'dreams' in their eyes, Sindhis were reduced to the status of refugees, with no place to call their own. Thousands of such helpless families were compelled by circumstances to settle in camps at Ulhasnagar. Fixed rations, consisting of just bare essentials were provided by the government, that too not very easily. One had to wait for hours in the queues ! Psychologically ,emotionally and financially handicapped, the families knew not how to grapple with such a humiliating fate. With no employment easily available, and children to care for, men found it an impossible hurdle to overcome, but not the womenfolk. With just simple culinary skills, sewing ability, and a strong spirit, the Sindhi women began using these capabilities to surmount all obstacles that had befallen the community. Literally out of nothing, was born a flourishing business of pickles, papads, khichas, wadis, pattice etc.etc. and the highlight of this business was that it involved maximum number of women, mainly housewives. Housewives who had taken upon themselves the Herculean task of seeing their families through to better times, decent homes, and quality lives.
Thousands of housewives all over Ulhasnagar engaged themselves in what could be termed as the 'cottage industry' of the township, making papads at home, and selling them house to house. When the small business took off, it seemed fit to form a group of ladies and roll out bulk stock, thereby increasing the scales.

Half a century later, there are still women who run successful enterprises with a handful of lady helpers. Prominent among them is Mrs. Nanki Manglani who has been in this field since twenty five years. Operating from Pune, she has shifted base to Ulhasnagar and along with her husband, Mrs.Nanki is happy today, that she has a decent home for her family. The most satisfying experience for her however is that she is able to provide simple employment for the womenfolk in her area. Every day, soon after the household chores are through, the women gather at her place, and roll out papads for about six hours. On an average each woman is able to make about five to six kilos of papads. These papads are then dried on the terrace, bundled and packed in plastic bags. They have regular wholesale buyers, not just in the town but in Pune and Mumbai as well. The business does well for nine months of the year, excepting the monsoons, during which time "business is not too good, but we manage by drying the papads in the ovens or 'bathis' as we call them" says Mrs Nanki.

But all is not so well with Mr. Dayaldas of Satyanarayan papads. "Times are not the same "he says "the number of ladies working is far less today than some time back. Women today shift loyalties too quickly, moving to places which offer them a few pennies more. Besides, a small room in Ulhasnagar costs lakhs of rupees, and that means easy money for certain families that sell off their premises to builders, get substantial amounts, and move to distant places with decent lifestyles".
There are many in Ulhasnagar today who believe that the downward trend began with the craze for Dubai and Singapore trips that were a great temptation for women who were paid quick and easy money for a few days trip. Something that a housewife had otherwise only dreamt of. A large number of womenfolk took maximum advantage of the situation, thus providing imported goodies for themselves and their families. However not all were as fortunate and lucky. Many continued to slog and toil under difficult situations, and do so even today. Prominent among them is Mrs. Komal Kalra, staying in camp no. 3. A woman in her thirties, Komal has a regular routine of waking at 5 am, to make fresh potato pattice (Sindhi Chhap), for her husband Girish , who catches a local train to Mumbai and sells them house to house each day. Having respiratory problems that bind her to her bed for days together does not deter the woman from following her daily routine, as "we have to run the kitchen" she says." Having two children to educate is not an easy task. With all the hard work, we are able to just make enough to eat a decent meal twice" Komal is satisfied, though not completely so, but has the support of her husband Girish, the man who silently and patiently runs the show outside, coming home every evening with his daily earnings.
For Sunita however things are far more difficult. Being a widow, and four children to care for, life has been a tearful rollercoaster ride. Not having any specialized skills she took upon herself the task of buying items as papads, khichas, wadis and even nighties and gowns and selling them house to house, in Mumbai. Travelling by the local train,she would scale the city from Shivaji Park to Bandra, making acquaintances and selling her goods. "I made it a point to leave home only after finishing the chores, and would always travel back home, no matter what. Even during the 1993 riots I came to Mumbai, but managed to go back for the safety of my children" A woman of daunting spirit, Sunita refused to live on charity as it undermined her self respect, especially in front of her children. After twenty five years of hardship, she has heaved a sigh of relief as her eldest daughter is employed and so is her son. She now comes to the city every alternate day.
For a sheltered and overprotected daughter whose father's word was final, be it education, or marriage, or a submissive wife whose every need and demand was provided for by the husband, but within the constraints of the four walls (pre-partition days), the Sindhi woman has certainly emerged the stronger emotionally and professionally. She has emerged a good mother, an excellent homemaker, and definitely a great partner. Above all the backbone of the family, a pillar of resilience, reassuring our faith and trust in her as the torch bearer of the Sindhi community. She indeed is the true leader, who survived due to her persevering spirit and values that did not let her stoop to begging, but made her an intelligent and enterprising entrepreneur.