PROFILES OF A FEW ACHIEVERS
compiled by Arun Babani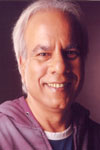 Anju Makhija
Anju Makhija is a poet, playwright, and scriptwriter. An MA in Education Media from Concordia University, Montreal, Canada, she has worked in the advertising and television sector. Her works include 'All Together', a multimedia production that won an award at the National Educational Film Festival, California in 1985; a book of poems, 'View From The Web'; plays, 'If Wishes Were Horses' and 'The Last Train'; she had also co-translated an anthology of Sindhi partition poetry entitled, 'Freedom And Fissures', and is the recipient of the first prize in the All India Poetry competition. She recently won a first prize in the BBC World Poetry Competition 2002. Currently, she is translating the work of Sufi poet, Abdul Shah Latif with a senior Sindhi poet Hari Dilgir.
DR. INDU SHAHANI

Enterprising, versatile, charming, and dynamic, are the words that come to mind when talking about Dr. Indu Shahani, a leading personality in the field of education. She has recently been elevated to the post of Principal, HR College of commerce and economics, one of the best commerce colleges in Mumbai. Dr. Indu Shahani has over the years done wonders in transforming not only the college and its systems, but is also the person who is responsible for the present students having an extremely high level of motivation. Mrs. Shahani's Phd. thesis was on the subject that was close to her heart namely 'University-Industry Interface To Enhance Undergraduate Education'. She has been appointed 'Ambassador Of Indian Education' to UK by the British Council. She is a visiting faculty to UC Berkley, and School of Management USA.
Mrs. Shahani has authored many textbooks on Management, Advertising, Marketing and Finance. She has been single-handedly responsible for the Internationalisation of college education, initiating links with 18 international universities in the USA, UK, Australia, and New Zealand.
Dr. INDIRA HINDUJA

Dr. Indira Hinduja, a world famous practicing gynaecologist, on the clinical faculty of King Edward Memorial hospital, Mumbai, has a significant contribution in the field of medicine, which has led her into international limelight. She is the pioneer of the first ever scientifically documented test-tube baby in the country (August 1986). Dr. Hinduja is also the pioneer in the technique resulting in the birth of India's first GIFT (Gamete Intra Fallopian Transfer) baby in 1988.
She has presented papers at more than 70 conferences and delivered lectures all over the country in Applied Biology. For her outstanding performances she has been felicitated and awarded by various organizations, which include Outstanding Citizen's Award by Jaycees, the Bharat Nirmaan Award, and also International Woman's Day Award by the Mayor of Mumbai, Life time Achievement Award etc.
According to Dr. Hinduja Sindhi women are 'hardworking and sincere, that is the reason they are successful in every field'
MS. CAMELLIA PUNJABI
Ms. Camellia Punjabi is a role model for those wanting to scale new heights at every step of their career. Graduating from Mumbai's Sydenham College she went on to attend University of Cambridge, UK. From a bright student to a bright and prosperous career with the Taj group of Hotels, Ms. Punjabi's sincerity in her work enabled her to achieve true success. Thirty two years with the Taj took Camellia to all corners of the world.
She also has a wide-ranging experience in Architecture and Interior Designing. She was responsible for introducing International levels in landscaping in India. She's the Author of two Booklets on Mumbai's environment, plus a cook book called "50 Great Indian Curries Of The World" which sold a mammoth 1,50,000 copies worldwide, beside being translated into several foreign languages. She was the publisher and editor of the Taj magazine for 25 years. On being a Sindhi Camellia says, "Sindhis today like to be known as westerners. So much so, that on weddings they serve Chinese, Italian and continental food, but Sindhi cuisine is a big no-no. Perhaps they feel inferior at being know as part of the Sindhi community.
KARUNA SAMTANI
"Many of the Sindhi women I know just waste their time in kitties and shopping. They don't achieve anything and are lazy." These words of Ms. Karuna Samtani naturally put her in a class apart. A Sindhi woman who has been in the profession of heading and running satellite TV channels for the past quarter century or so. From Creative service executive with HTA to establishing her own film production house within a span of two decades, Ms Samtani credits her tremendous success to sheer hard work and a sense of commitment to quality. Ms Samtani was one of the pioneers in the introduction of satellite television in India in the early nineties. From being channel head for Zee TV, El TV, Citi Cable to director of business department Star TV, success has become a way of life for her.
Her other interests include writing poems and studying human psychology. After a long and successful stint on TV, Ms. Samtani is now ready for scaling greater heights in cinema, for which she has established "Karuna Samtani Productions", a company which is producing feature films.
KITU GIDWANI
Kitu (Kaushalaya) Gidwani started her career in modelling with her first major campaign with Mafatlal fabrics in 1981, at the age of twenty one. She had just completed her graduation, and wanted to do something different. Many major campaigns later Kitu joined Mumbai's English theatre and found great satisfaction doing many offbeat roles on stage. Sometime later Ms.Gidwani appeared on TV with major serial productions like 'Junoon', 'Viraasat' and 'Swabhiman', which was written by veteran writer Shoba De, and was a big hit on the small screen.
Born in 1959, in Mumbai, Ms. Kitu Gidwani has made her mark in the related fields of advertising, television and theatre. Charming and sensitive, she is an avid reader, travels a lot, and is not over ambitious about acting in Hindi films. She says "I am not interested in regular heroine roles, where I have to just dance around trees. I am interested in real life characters, depicting the reality of life." Ms. Gidwani has truly made the Sindhi community proud of her.
NEETA LULLA
Neeta Lulla began with a Diploma in dressmaking from the SNDT University, and later went on to design costumes for over 350 films, covering a clientele of major stars from the Hindi film industry. She has a parallel vocation of trousseau consultancy, which includes designing and working on a bride-to-be. The latest of Mrs. Lulla's ventures is the film "Devdas" for which she has won great critical acclaim. Mrs. Lulla has many awards to her credit, some of which include, National Award for Costume Designing for Yash Chopra's "Lamhe", and Screen Videocon Award for Subhash Ghai's "Taal". Apart from this Mrs. Lulla has also been nominated for many national and international awards.
According to Mrs. Lulla sindhi women are open to new trends, ideas, colours etc. Amongst them the Amils and Bhagnaris are fond of flashy shades, whereas Shikarpuris tend to be stylish and elegant, giving attention to matching accessories, jewellery and so on"
RANI JETHMALANI
Born on 18th July 1945 into a family of lawyers (she is a fourth generation lawyer), Rani Jethmalani is a practicing advocate of the Supreme Court of India. She graduated in Political science and Sociology from St. Xaviers College, Bombay, and went on to take a law degree and LLM in International Law/Constitutional Law from the Bombay University.
From 1973 to 1976 she taught Constitutional Law at KC Law College as a part time lecturer and also practiced law. Miss Rani Jethmalani has focused particularly on the Law as a instrument of social change. Her legal activism extends to pioneering work in public interest litigations like dowry-death victims, sati, child-rape and changes in Personal law.
Daughter of the renowned personality Shri Ram Jethmalani, she is actively associated with several cultural and spiritual foundations, including the Aurobindo Society, Chinmayananda Mission, and Buddhist Organizations affiliated to His Holiness the Dalai Lama. She is also keenly interested in music, art, painting, theatre, architecture, holistic healing therapies and Yoga.
SANDEE N. HARILELA
Sandee Harilela is the Managing Editor of "BR International" magazine (formerly known as "Bharat Ratna" magazine).
The eighth and youngest sibling in the Harilela family, she brought honour to the Harilela name by putting her literary talents and aesthetic gifts in artistic design to good use. On completing her education, Ms Harilela joined her brother Bob Harilela, Editor and Founder of Bharat Ratna, and assisted in the production of the magazine. Her literary proficiency and aptitude for design work proved to be worthy assets that helped advance the magazine to great heights of popularity.

Born and brought up in Hong Kong, Sandee was educated in King George V School, one of Hong Kong's leading schools in the prestigious English Schools Foundation group.
Recognizing her skills, it was not long before Bob relinquished command of the magazine completely into her capable hands.  Ms Harilela then became totally immersed in the magazine. As Managing Editor, she progressively upgraded Bharat Ratna until she could boast that it was one of the Overseas Indians' foremost publications in the world. Its Overseas Indian readers, scattered throughout the world, tend to look upon it as their lifeline to their native culture even as they assimilate the culture of their adopted country of residence.
Apart from her literary and design skills, Sandee Harilela is also endowed with superior thespian talents. The dramatic events she participates in are considerably enhanced by her convincing acting ability. It is a well-known fact in Hong Kong that Ms Harilela will always come forward willingly to devote her skills when the cause is a charitable or social one.
In recent years, Ms Harilela has lent her talents to directing stage productions of the Indian community in Hong Kong with remarkable success.