JASMINE CHABRIA…
A new bud in the Sindhiyat bush
By Arun Babani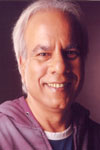 Jasmine Chabria is a bright young lady of 22, a journalist, writer, an award winning short-film director and above all a 24 karat Sindhi, born to pure Sindhi parents! Born in Tehran, Iran, which is yet another unique feature about Jasmine where she spent the first 15 years of her life, schooling.But since higher education in English was not available there in Tehran, Jasmine was sent by her thoughtful parents to India for further studies. She enrolled in Bandra's National College and graduated from there last year. Her father, Mr Murlidhar Chabria is employed with the Hindujas and looks after their business interest in Iran. Her mother is a simple house wife.
Jasmine tells us that she took up the pen at fourteen and began writing stories, articles, and poems which were published in local platforms. But what attracted her deeply was the magic of the moving image. "I loved films and wanted to make my own film." Here in Mumbai she worked for a youth magazine while writing stories and scripts for short films. And one fine day she just made one. "It was a great experience." The film titled 'Tatkal' won an award and a trophy from the DNA newspaper and was judged as one of the five best films among the hundred entries!
Jasmine's next step naturally was to make a full length feature film and for which she's in touch with a few directors in the Hindi film industry.
What makes Jasmine Chabria truly special and unique is her love for Sindh, Sindhi, Sindhiyat, which is a rarity among our community's younger lot. Jasmine learnt Sindhi in college and took extra classes on Sundays; she now speaks fluent Sindhi. "Actually, I feel elders have not guided us youngsters in this direction very well, but Sindhishaan and people like you are doing a commendable job fighting this difficult battle of saving our language and culture from extinction." But it is young people like Jasmine that are the hopes and aspirations of all efforts like Sindhishaan and the very reason for our struggle. The young Sindhis like Jasmine and others must join us in this battle and one day take over the mantle and carry forward the torch for the future generations.
Jasmine borrows some Sindhi films from us, promising that hopefully she will be making a Sindhi film. "Just in order to pay back the debt to the community that has given me so much." Young Sindhis like Jasmine are the future of an exhausted, partitioned generation of Sindhis in need of an urgent revival and resurgence. Good Luck Jasmine. May the light of Sindhiyat guide your path and make it bright for you to find your roots, your wisdom, and your dream! Amen.