SINDHI MUSIC
By Arun Babani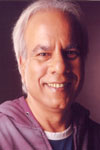 Music is said to be the nourishment of the soul. Osho loved music and musicians. He considered music to be closest of Godliness. Musicians leave even philosophers and spiritual masters behind in their impact and power on their audience. Furthermore, music has no particular language. Or one can say that people can relate with and get intoxicated by music from any other language and culture. That's the transcendental nature of music, going beyond all language, words and boundaries. Also the chemistry of music can affect everyone from a child of two to an old person of hundred and two! Osho called music a mysterious alchemy that originates in the deepest corridors of the human soul and reaches upto the highest level of sublimity, grace and emotional healing. Yes, music does heal. A proper raga or a beat has a soothing effect that works as a therapy and meditation which can take you beyond, into an impressive, luxurious and graceful region of your being that you never imagined existed inside you. Sufi music, for instance, is known to have soothing and healing impact on the listeners and they are transported into the mysterious and speechlessness and lightness of being.
Sindhi music, historically, has had two or three main influences upon it. Foremost is that of Sufi Music. Then there is the Urdu Gazal Gayaki wich has also been a long standing companion of Sindhi music. And finally the Laadas and other types of marriage merry – making songs have come to us from our Sikh brotherhood. Sindhi Bhagat, however is unique to Sindhi music with the great Bhagat Kanwaram being the originator of this art form. Bhagat comes closest to spiritual truths, shared in a song and dance format and very popular with the Sindhi community. Quawali on the on the other hand has not been composed in Sindhi language, which is strange because in Urdu the Quawali has had a very long tradition but Sindhis seem not to have been influenced by this art form.
Going over the last hundred years and so, from the time of Bhagat Kanwaram in Sindh followed by Prof. Ram Panjwani, Master Chander, Hassanand Jaduagr, Bhagwan Chawla and later Bhagwanti Navani, Satram Rohra, and a little later, Mahesh Chander, Ghansham Vaswani, Kajal Chandiramani, Dushant Ahuja, along with some other very good singers from Gujarat, Rajasthan and Adipur have been playing Sindhi music and playing it with passion and commitment.
Sindhi music which includes Gazals, Bhajans, Laadas, Chej, Bhagat and Bharana continues to attract young and old alike. There is one difficulty though. When we speak of modern Sindhi music we seem to come to a standstill and are suddenly speechless. Is there any such thing as modern-day Sindhi music? Or have we forgotten to write and compose new music for the new day, new generation? Have we cared to create powerful voice for the young hearts, to give them something that they want to hear, or relate to? Or are we still to occupied with our older songs and melodies? One doesn't seem to se much of young minds or new sur-taal in Sindhi music. For instance, the Bollywood styles songs or Sindhi lounge music has not at all been a part of Sindhi music scene. One cannot say with certainty whether it can be done or not or whether it will work or not or whether it is even worth trying and experimenting is this manner. But when we proudly speak of modern Sindhi literature or modern and post-modern Sindhi poetry then why not modern Sindhi music? When we hear the elders speak of promoting and encouraging voice culture in order to save language and identity, one is compelled to look at newer possibilities and challenges facing our musical Sindhi community. What say Pandit Ghanshamji? Are we ready?