The pen is Mightier

Sindhi Women Holding the Quill
compiled by - Arun Babani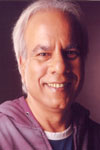 INDRA SHABNAM
Born in Karachi, Sindh, Ms. Shabnam completed her BA, BEd and became a teacher. She also served as a jail warden in the police department, and taught at St. Meera College. An accomplished Yoga teacher, and Reiki master, Ms. Indra Shabnam has written many books in Sindhi, notable among them is 'Shabnami Katra', a collection of ghazals and 'Ibadat' - a collection of short stories. Her works have been translated into Hindi and Marathi and also been relayed from All India radio and TV. In January 1994 she received an award from Delhi Sahitya Academy for her significant contribution to Sindhi literature.
INDRA VASWANI
Indra Vaswani is a well known writer in Sindhi literature. She has two books to her credit - 'Naalo' (name), published in 1988, and 'Manjiri', published in 1996. Both the books earned critical acclaim. Besides, she has also written poems and short stories in Sindhi which have been translated into all major Indian languages. A teacher by profession, Indra Vaswani is married to professor Harish Vaswani, and they are blessed with one daughter. She was awarded the National Award for teachers by the President of India. Mrs. Vaswani is a member of the Sahitya Academy and on the Board of Examinations of Sindhi subjects. Her other pursuits include broadcasting, talks, and features for All India radio.
DR. KAMLA GOKLANI
Dr. Kamla Goklani is a lecturer in Sindhi at Government College, Ajmer, and has over a dozen books to her credit.She writes in many genres including short stories and essays. Her doctoral thesis is on the subject of Sindhi Shayaree Mein Kudrat Jo Chitt (Potrait of Nature in Sindhi Poetry). Dr. Goklani has been the editor of many literary journals in both Sindhi and Hindi. She is also the member of the Advisory Board, Sahitya Academy, New Delhi, and member of National Council for Promotion of Sindhi Language. She has received many distinctions including a gold medal for the best female writer of India in 1994. One of her books has been translated into Gujarati, and many stories have been translated into Punjabi, Urdu, Telegu and Hindi.
MRS. KALA PRAKASH
Mrs. Kala Prakash born in Karachi in 1934, is one of the most successful and quality-writers of Sindhi language. She is the proud author of eight novels, two collections of short stories, one collection of poetry, and a travelogue to Sindh. Widely acclaimed as the best fiction writer in Sindhi, her writings have been published both in India as well as Sindh, Pakistan. Her first novel 'Hikk Dil, Hazaar Armaan' was published in India in 1957, and was later published in Sindh in 1973. Her latest book out of the press 'Pakhan Ji Preet' was in 1999. After spending almost a quarter century in Dubai, she and her husband, well known writer Dr. Moti Prakash, have returned to India, and have settled in Adipur, to serve at the Institute of Sindhology.
MAYA RAHI
Born in 1937 in Quetta, now Baluchistan, Maya Rahi is an MA, B Ed, with 36 years of teaching experience. She retired as head of department in 1996. Her literary career extends over forty years of contribution towards Sindhi short story and Sindhi poetry. Her book -'Mohabatt Jo Meenhun' - a collection of short stories was highly appreciated in the Sindhi literary circles. Her next book 'Moksh' which is also a collection of short stories, is in print and will be out shortly.
Maya Rahi is the wife of prominent Sindhi poet Shri Krishan Rahi.
Prof. Miss POPATI HIRANANDANI
Among the few writers looked upto for enlightening and refreshing reading, Miss Hiranandani commands a prominent and privileged position. Her writings reflect the pride in being a woman and a Sindhi woman in particular. Miss Popati has a rare trait of fighting for her convictions and that quality gives her an unparalleled status in the Sindhi community. Her book "Maan Sindhin" (Me a Sindhi Woman) gave a typical analysis of an Indian woman in general.
Her other book 'Sindhis - The Scattered Treasure' presented beautiful insights into the Sindhi community. Miss Popati Hiranandani is the author of about forty books which include critical analysis of the women of India, an analysis of Vedanta, translations of the works of Kabir, Swami Vivekananda and Shrimad Bhagwat Geeta running into five editions. Her autobiography 'Munjhee Hayatiyaja Sonaa Ropa Varqua' written in 1980, won her the Sahitya Academy Award.
RITA SHAHANI
Rita Shahani is an eminent writer in Sindhi, Hindi and English. Born in Hyderabad in 1934, her proficiency in writing is evident from the fact that twenty four of her books have been published in a span of twenty years, covering all genres of literature-poetry, novel, short stories, essays, reviews, letters, biography, travelogue and autobiography.
Mrs. Shahani was a member Maharashtra State Sindhi Sahitya Academy, and is also on the Editorial Board of Maharashtra State Secondary and Higher Secondary Education. At present she is the member of National Council For Promotion of Sindhi Language. Her work has been translated into various Indian languages like Hindi, Oriya, Telegu, Kanad, and Marathi. She has also presented many papers at various national seminars in Sindhi and Hindi.
SUNDRI UTTAMCHANDANI
Sundri Uttamchandani, born in Hyderabd Sindh on 28th Sep 1924, is the topmost progressive lady short story writer and novelist in India. She has been writing continuously since last 4 decades. She has won Sahitya Akdemi Award and Maharashtra Gaurav Purskar and Akhil Bharat Sindhi Boli & Sahit Sabha's literary Award and Indo Soviet Nehru Peace Prize. She has remained active in the movement for recognition of Sindhi language in the eighth schedule of Indian Constitution and other literary and cultural causes of the community. Some of her short stories and novels have been translated in various languages of India. Her writings are liked by common people on account of her homely language coupled with proverbs.  She is a Radio, TV and stage artist and has taken part in many such programs. She has also written one act plays and poems. She is the founder   President of women's organisation, "Sindhu Nari Sabha" since 1966. 
TARA MIRCHANDANI
Mrs. Mirchandani wrote her first book, a novel, at the age of nineteen only, and then she went on to write ten books which are a collections of short stories and novels. A simple and unassuming housewife, Tara Mirchandani was born in 1930, in Hyderabad, Sindh. Based in Pune, Maharashtra, she has been the member of Sahitya Academy Advisory Board in the past. She was also a member of Maharashtra Sahitya Academy. As a writer she has won many honours and awards and is one of the prominent Sindhi writers. Her novel 'Hath Yogi' which is in two parts, was published in 1990 and earned her many laurels. Mrs. Mirchandani's female characters are mild, loving, sweet and emotional. Her heroines suffer a lot, but quietly, and carry the burden of their grief.
VEENA SHRINGI
Ms. Veena Shringi is a multi-faceted personality - a poetess, writer, broadcaster, and social worker. She was born in Larkana, Sindh, and migrated to India in 1970. Hailing from a well known zamindar family, her progressive outlook rebelled against the age old bondage of orthodoxy. After graduating in 1976 she joined the All India Radio in its Sindhi services, and is still serving as a senior broadcaster and producer. Ms. Shringi has so far authored 11 books in Sindhi language. Besides, she has also edited many books in Sindhi and Hindi. Her articles and poems have been published from different forums. In 1999 she was invited to present a fashion show at the sixth Sindhi Sammelan in USA.
Ms. Veena Shringi is the General Secretary of 'Maruee' a social, cultural and literary organization of Sindhi women. At present she is the member of National Council for Promotion of Sindhi Language, Government of India.