STUDENT SEMINAR ON SINDHIYAT
by Arun Babani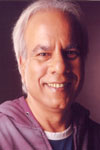 Jai Hind College is a premier educational institute of this great Mumbai city. It is the part of Hyderabad Sindh Collegiate Board and was established in 1948 at Churchgate, by our foresighted forefathers who believe in imparting quality education along with teaching human values. The department of History, headed by Prof. Mohini Dias, recently held a two-day Degree College Seminar on the subject of 'Unraveling the Sindhi community – myth and Reality'. The project was aimed at spreading awareness about the Sindhi community and reaching out of the younger generation with the realities and myths about the Sindhi community. In all a total of a eleven papers/presentations were prepared and presented by the bright young history under-graduates to an audience consisting of students, teachers and guests. Ms. Nandita Bhavnani, reputed research scholar and writer was the Chief Guest on the occasion. In her inaugural speech, Ms. Bhavnani gave a well documented presentation on the subject of Sindhi community and the relation to the city of Mumbai. The presentation spoke of how the Sindhi community shifted to Mumbai and its neighbourhood during the partition and within the short span of six decades made a mark on the city by sheer hard work and research lofty heights of success and prosperity. Sindhis put up many business houses, educational institutions, shops and establishments and took on the colours, smells and sights of Mumbai quite effortlessly. The literary scene also thrived in Mumbai and its neighbourhood Ulhasnagar. Ms. Bhavnani concluded that all this was possible because of the community's undying spirit of survival and adaptability.
Presentations by students were impressive and it clearly showed that a lot of effort and hard work had gone into the research made by them. Notably, a presentation on the rebel teacher and writer Ms. Popati Hiranandani – Post Partition Psyche was heartwarming as the paper graphically showed the kind of conditions Sindhi women had to undergo on account of the partition and subsequent displacement of the Sindhi families. A presentation on Sindhi music – Sufi Music was also well researched and well presented in which two young non-Sindhi girl students gave a taste of Sindhi music apart from describing the type of Sindhi instruments and Sindhi music. The presentation on Sindhi Stereotypes was full of humor, describing the typical Sindhi dress, food and behaviour, with the community being at the butt of many jokes, making a presentation light hearted.
On Day 2 the first paper/presentation was devoted to Sindhi Diaspora in Dubai/Hong Kong which was impressive and broadened the perspective of the seminar. It spoke of the lives and times of Sindhi NRIs and their story of success which made an interesting presentation. Another paper was on Sindhi surnames – Deconstructing Sindhi Surnames which have been written about time and again and much material is available on the internet of which some is useful and other comical trash. The paper on Sadhu Vaswani was devoted to the great work accomplished by the Vaswani mission in the field of education and human values. The paper presented on Sindhi householdCultural Identity of the Community and Sindhi Cuisine were impressive, being a proper mix of research, information and good taste. A special mention aust be made of Ms. Romita Wadhwani who rendered two Sufi songs that were the highlight of the event and were highly appreciated by all.
(Nandita Bhavnani's Presentation) To sum up, the two day seminar was a huge success. Finally we asked Ms. Nandita Bhavnani about the purpose and impact of such seminars in colleges and she replied "I was quite impressed with the quality and high level of student presentation. The efforts showed in their papers. It makes a difference as you can see that many non-Sindhi students also participated in researching and collecting information, thereby spreading awareness about the Sindhi culture. The problem with the Sindhi community is that we are too small in number and we are spread out far and wide and to top it all we are ourselves out of touch with our culture. So such seminars fulfill a great responsibility by promoting awareness about Sindhi culture and tradition. Incidentally, they are planning another national level seminar on the Sindhi community in November which is very encouraging news for our community,"
We send good wishes to Prof. Mohini Dias and her team of students who put together such an impressive show in this heart warming event.