Status & Snobbery
SINDHI ISTYLE
By Arun Babani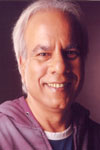 Status and snobbery have been around in human societies since the early beginnings. In ancient kingdoms status was determined by the number of tigers killed or by the number of ladies in the harems. Which is why snobbery makes anyone look classy and it makes people sit up and take notice of your Dobermans.
In pre-partition Sindh, particularly in Hyderabad, the snobbish Sindhi took roots and grew up. In those early days of status consciousness one would be counted among the higher ups by the number of servants at one's house, or by the number of dishes cooked for dinner. Slowly the art of snobbery took shape and substance and today a Sindhi shows off the brand of his cell phone or his latest laptop directly purchased from Dubai, or even the surgeon he consults for his bypass that spells magic for his status.
Sindhis, simple folk that they are, have not had much to flaunt by way of culture or class except of course their wealth. So with Sindhis it's the V.I.P passes at the drama festival that make them feel powerful and enviable. Nowadays some wealthy Sindhi gents have also made to Page 3. Apparently they get there by their socio-political connections, so you'll have a 'social worker' sipping a drink with Murli Deora, or an arty Sindhi lady discussing the finer points of tapestry with Tina Ambani.
Sindhi ladies, the bulk of them, don't fit the bill of a truly snobbish Mademoiselle, but if you peep into their kitty gatherings you see that snobbery takes a new turn and becomes competition. Here the count of your husband's socks or the name of your hair dresser raises enough eyebrows to feel secure in your snobbery. Actually the snob Sindhi woman is a post partition phenomenon, a product of urban suburbs with a convent certificate. If the mother got her groceries from Ochi Pasari, the daughter insists on doing her monthly shopping from a super store, on her newly acquired ICICI credit card. If mother cannot do without Thakur Cut Piece for her salwar suits the daughter has trendy boutiques with lots of snob appeal to shop from. If father insists on buying a 2BHK in Nav Jivan Society, the son has an eye for a studio apartment in Hiranandani Gardens. Everything used to come with a price tag, but now everything comes with a snob appeal!
Sindhis play the snobbery game mainly to impress their friends and relatives, particularly their Senns, the in-laws. Here snobbery takes the form of who-gives-more-who-gets-more game. Sindhi marriages are a big occasion for a Ping-Pong game of snobbery. ("If they do gold, we do diamonds")
In his book 'Status Anxiety', the author describes the pursuit of status as the second "great love story" of every adult life. It is, he writes, "the story of our quest for love from the world". In India our standing in society was always about caste, but with globalization the rules of snobbery and status are changing so that now it's about having the right address, right clothes, right hair colouring, right cell phone, and even the right parties.
Young Sindhi Gen-Next, born with a silver spoon and a set of silver cutlery too must be made to watch out for the sinister pace of snobbery because it's an endless race with your in-laws that might exhaust you sooner than you think.