Being a Sindhi.....
By Arun Babani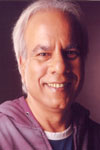 I'm sure you are a Sindhi, since you have picked up this magazine to read….But I'm not too sure about your age…Let's say you are either below or above the age of 35…
So now, being a Sindhi, let's see if you belong heart and soul to the community or you don't… Have you ever been to the Sita Sindhu Bhavan in Mumbai…? If you are below 35, chances are you don't know what Sita Sindhu Bhavan is…It is a centre for Sindhi Culture and Arts, founded by Late Dada Ram Punjwani who was a Sufi Saint-Singer and who earned his living teaching Sindhi at Jai Hind college…If you are above 35, you must have surely attended some event at this centre…The events, held every alternate Sunday are presided over by the saintly couple – Paru and Thakur Chawla.
So, being a Sindhi…what else is of interest to you…? Let's see, Yes, let's talk about colours.., what are your favourite colours…? In clothing, for instance…chances are you either prefer dark flashy colours like gold, red and black, or you simply go in for white…! Right…? Being a Sindhi…, you make your home with dark flashy colours or you make it in pure white. And being a Sindhi…you don't touch anything green…! Right…?
Being a Sindhi...do you know where or what is Adipur…,Gandhidham…,Sindhology…or any of that stuff…? If you are below 35 you should know this, and if you are above 35, not knowing this is unpardonable and may even call for your dismissal from the community…!
So let's see, being a Sindhi…you must know that the Indian Institute of Sindhology was founded by that very famous and capable trinity of Lakhmi Khilani- Dr. Satish Rohra-Sahaeb Bijani…by the way there are several famous and capable trinities in the community that you should be already knowing…but about that later…
So, being a Sindhi…, this Adipur trinity has actually founded an institute for Sindhis along with a committed community of Sindhi writers, artists and seers. The great poet Hundraj Dukhayal who was also known as the people's poet, also known as a warrior poet went from village to village, in heat and dust, to inform and convince the Sindhi population to adopt Adipur, and he traveled on horseback…!
Being a Sindhi…now you may ask what are the other trinities in the community…why, there are quite a few famous and able ones, A.J Uttam-Gobind Malhi- Kirat Babani for one, the great trinity of Sindhi literature, then the trinity of Sindhi women writers of Popati Hiranandani-Sundari Uttamchandani-Kala Prakash, then the trinity of Sindhi artists, from Jaipur Sunder Agnani-Lachman Bhambani-Vasdev Sindhubharti, then another writers trinity which became famous in the 70s was Lal Pushp-Guno Samtani-Mohan Kalpana…then there is the enchanting trinity of Sindhi women principals of Sindhi colleges Indu Shahani of H.R ,Manju Nichani of K.C, and Subhadra Anand of National……and above all these luminous trinities is the grand trinity of the Sindhi Sufi saints Shah-Sachal-Sami…! So, as you can see the community has produced quite a few wonderful trinities…
Anyway, being a Sindhi…, what music do you play at home? Below 35? You must be hooked onto Sonu Nigam…or maybe Michael Jackson? Certainly not GhanshyamVaswami or Kajal Chandiramani? Over 35, then may be you have heard some voices of the community. But how many of you know that our very own Ghanshyam is the only singer-composer whose compositions have been sung by the great gazal maestro Jagjit Singh? Or for that matter how many in the community know that apart from Sindhi music Mr. Vaswani can also share with you an insight on the share market? Yes, he's a wizard at music as well as stocks…So check out with this gazal great about the latest on Reliance and Tata…!
Being a Sindhi…let's talk about your partners…your spouse…your families…your kids…your parents…your loved ones…your relatives…Being a Sindhi…what kind of company do you keep? Over 35 ?then may be you do have pure Sindhi spouse.., but under 35, you may be living with an inter-community spouse…anyway, what do you think is the best thing about your own Sindhi spouse? The way she cooks Currhi-Chanwar? The way he dresses up in style? Her Bindi? His gold watch?
Being a Sindhi…and under 35…I'm sure you don't read, write or speak Sindhi…no matter !All you can do now is to speak Sindhi with your spouse, family and friends…in Sindhi gatherings, in Sindhi marriages…speak in your mother tongue and see how nice you feel about yourself. its like feeling at home…and feeling a oneness with your loved ones…its that feeling of security and pride…You can be a Sindhi only when you like being a Sindhi, only when you feel at home in Sindhi…only when you belong heart and soul to the Sindhi community…!
Being a Sindhi…your wallet must be brimming with hard currency notes…? You must be rich…educated…cultured and having a fine taste for worldly pleasures…? But do you also encourage Sindhi Arts...Magazines...plays…and music…? Under 35? You must not even be knowing that there is a large body of Sindhi literature of about 10,000 literary works, dramas, poetry and so on…These are waiting for all you under 35s to collect free and plunge into their joy and wisdom… Over 35? May be then you still subscribe to 'Hindwasi', the only mouthpiece of the community? May be you also write and contribute to various big and small Sindhi periodicals… Yes, you must encourage and support Sindhi projects of all sorts by contributing money and might…
And finally being a Sindhi…What religion do you follow…? For God's sake…you must have heard of Jhulelal? And Guru Nanak? Yes? You have? And what is the meaning of a Sufi? You don't know? What about Sadhu Vaswani? At Pune there is a Sadhu Vaswani Mission…, they run educational institutes and generally Dada Vaswani is a friend, guide and philosopher of the community…Do take time off and visit the ashram at Pune and feel for yourself… In religion, Sindhis have beaten every other community, they follow not one, not two, but three paths together, all at once…Can you tell me what are the three paths Sindhis follow…? Easy…, Sikh Panth, Sufi Panth and Vedic Panth. That's how they are so smart, brainy and wise…!!!
What else…, being a Sindhi means all this and more, all the Sindhis below 35 must be encouraged to participate and feel happy at working for Sindhi projects known as the Sindhiyat project…Be a Sindhi…Be a proud Sindhi…!