AND LIFE GOES ON
By Arun Babani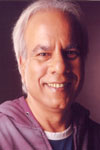 MY NEW YEAR RESOLUTIONS.
New Year resolutions are meant to highlight one's issues that have been pending over a long period of time. The resolutions focus on and encounter such issues in order to resolve them. Some things need an urgent resolving while some other things can wait. Since New Years are a new beginnings, the resolutions made at such times help to attain to these long overdue subjects in order to overcome them. I'm not in the habit of making resolutions although I've done such exercises on and off. In fact I feel I've made New Year resolutions at the end of every decade of my life and even this year 2012 I'm crossing my 60th year which has brought me to write my New Year resolutions this year.
I have full five New Year resolutions for 2013.
1) Since I'm turning 60 this year, my first resolution is to remain healthy. Health is, for the first time, my prime concern for myself. Eat healthy, think healthy and remain healthy.
2) At 60, the cheques stop arriving but the bills don't. Moral-spend cautiously. Surprisingly if I resolve to spend less it has a positive effect on my health. No eating out in restaurants, no taking expensive holidays, no shopping frivolously, eating channa instead of cashew nuts full of cholesterol and drinking water instead of beer…Wow my health has already improved!
3) Seeking out and searching for every opportunity to be of use and help to others. Here again my health has an opportunity to grow and improve. For six long decades I've taken and taken from family, from community, from society, from nation, from the world, from nature, from Universe and from life. Now it is the payback time. I'm always on the lookout for making any positive contribution towards any source of life which I'm sure will be of benefit to me more than to the receiver.

4) Lighten myself. The last few decades of life are for traveling light and bright. So we are in the process of giving away whatever we haven't used this year. The rationale is that if I haven't found use for this sweater or shoe or kettle for an entire year, we don't need it. So give away, share and unburden yourself, lighten your clutter and let someone else benefit from the process.
5) Quit smoking. Now this one last resolution has been pending since last five decades…lying unresolved…any suggestions?
OF DEATH AND DYING
Balasaheb Thackeray died leaving behind millions of crying faces. Yash Chopra died leaving behind 33 romantic masterpieces. Rajesh Khanna died leaving behind 200 films in which he acted and a 200 crore bungalow. M.F. Hussain died leaving behind hundreds of unfinished canvases. Jagjit Singh died leaving behind hundreds of soulful Gazals. Nawab of Pataudi died leaving behind a record number of matches and catches. Satya Sai Baba died leaving behind crores of people in grief and crores of rupees in his bedroom cupboard. Shammi Kapoor died leaving behind lovely songs and dances he performed on the screen.
Two things come to mind as I write this. One, the end of a person's life is a kind of a proof or a justification for his entire life of 70, 80, 90 years. A final statement as it were, a kind of a profit and loss account sheet. It depends on whether he has died out of choice, out of a deep fulfillment, like an overflow of a climax; or out of resentment, holding, clinging and not willing to let go. In which case it appears to be an unfulfilled and incomplete circle. Was he seeking one more day, one more hour of life or was he feeling this to be the best moment to take a bow! The balance sheet of an entire life lived depends upon this precious moment of exit.
Secondly, how many of us are able to connect the news and the sight of death to our own impending and certain end? My dear friends the bells toll for thee and me and he and she…! Amen.
                                                                        
SAVING MAN
Sindhi organizations are trying to save Sindhi culture from extinction. Maneka Gandhi is trying to save rare species of animals from extinction. Swami Bharti is trying to save the holy Ganga from pollution. Anna Hazare is trying to save Indians from government corruption. L. K. Advani is trying to save Hindu Swaraj from extinction. Raj Thackeray is trying to save Maharashtrian culture from extinction. Bill Gates Foundation is trying to save humanity from AIDS, Muslim clergy is trying to save Islam from extinction. Christian priests are trying to save youth from moral corruption. NGOs are trying to save street children from degradation and poverty. Green Peace movement is trying to save the planet from Ozone gas. Environmentalists are trying to save greenery from extinction.
Is everything under attack and danger of being blown off? I want to start a movement to save man from himself and his self destruction…Will you care to join and support me? All we'll need is trillions of tranquilizers!