ARUN'S MUSINGS & AMUSING PERSPECTIVES
By Arun Babani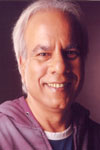 MODERN  TIMES !
Modern times? Modern times bole toh Malls,multiplexes,multi-cuisine restaurants,multi-tasking women, multigrain biscuits, multivitamin tablets,metrosexual men, multiple card holders, multiple organ failures, automatic teller machines, sky bazaars, sky zones, skywalks. Modern times bole toh air in your shoes, scandals in your sandals, light bulbs on your T-shirts, stardust in your hair, ozone gas in your deodorants and sunscreens on your face. Modern times bole toh monsoons not a magic but a havoc, a politician not a mentor but a mental, a cabbie not a driver but a drunkard, a seller only a smoothie, a doctor not a healer but a dealer, a lawyer not for justice but for tricks in the hole. Modern times bole toh management guru, advertisement guru, love guru, fashion guru, theatre guru, design guru. Modern times bole toh wizard kids, fast-track kids, super kids, complan kids and new kids on the block.
Modern times! Bole toh designer hair, designer tiles, designer towels, designer food, designer eye wear, inner wear, party wear, night wear, summer wear, designer kitchens and designer babies !Modern times bole toh ekdum artificial. Artificial jewelry, artificial cigars, artificial lawns, artificial toys, artificial art, artificial people, artificial non-veg food and artificial rain ! Artificially designed modern times. Drinks on the rocks, love on the rocks, marriages on the rocks and rocking parties with rock bands playing rock music. Mixing fire with ice, modern times play havoc with all things sugar and spice.
Modern times bole toh insecurity ,with security checks at airports, at theatres, at restaurants, malls, hospitals, traffic signals and neighborhoods. Frightened are the modern times. So you have health insurance, life insurance, car insurance, medical insurance, insurance against theft, against fire, against civil riots, against floods,earthquakes,against terrorist attacks, against foreign travel, even an insurance against divorce. Modern times bole toh buying jeans on the footpath, eating junk on the footpath, hugging your girl on the footpath, squatting to pee on the footpath, and generally living your best times on the footpath. Modern times! Buying movie tickets on-line, airline tickets on-line, designer hand bags on-line, meeting your sweetheart on-line, chatting up strangers on-line, gazing blankly on-line! Frightening! Modern times bole toh very very strange. Going to buy a book in a book store and coming out buying sunglasses. Very strange. Going to a mall to cool yourself. Going to the beach to have a cappuccino. And going to college for a blind date. Very strange. Strange words like whacky, funky, crazy,floppy,senti.Strange.Modern times bole toh rent a car, rent a villa, rent an outfit, rent a restaurant, rent a woman, or even rent a womb!
Modern times are really,funnily,hilariously,ironically,strangely modern with everyone living in these modern times, thinks the same, feels the same, experiences the same, wants the same, hopes the same, searches for the same, and wonder of wonders, even looks the same !Modern times are not that modern after all.I don't like the  modern times. Imagine paying 20 rupees for a glass of ordinary water.I won't buy the modern times even if offered "one pe one free !"
SINDHIAT: A TURNING POINT
Sindhis seem to be a blessed people. The two most important conditions for progress, peace and prosperity, happen to be the two wings they seem to be born with. Inspite of invasions and conquests that visited upon the community through the ages, Sindhis have become more and more resilient and hard working. The hardships they have gone through makes them rise from the ashes every time, time after time. There is ample evidence of this in history as well as in recent times of partition and its aftermath. True wisdom is an inborn asset and the Sindhis have it in abundance.
Consider this. Sindhis are the only community that is shaped, formed and influenced by three major religions of the world, Islam, Hinduism and Sikhism. But Sindhi elders, God bless them, borrowed and learnt from each one of these great streams of thought only up to a point, rejecting what these wise souls considered not up to their high standards of ethics and morality. For instance, from Hinduism they took the basic tenets but rejected their caste system and many unnecessary rituals and ceremonies. In Islam they were impressed with Sufis and saints but could not accept their orthodox sense of dress, appearance and prayers. From Sikhism they learnt the Gurbani but could not accept their five requirements like kada, kirpan and so on. Sindhi elders and founders seem to be seeped in the spirit of true freedom and infinite wisdom. Therefore one can see Sindhis welcoming every human being with open arms of respect and dignity. When Abida Parveen sings Sant Kanwaram's bhajans, Sindhis sway to her rhythm. And when Bhagwanti Navani sang Dhama Dhum Mast Kalandar Sindhis danced in an ecstatic state. When Ghansham Vaswani renders Sami's Dohas into music, he draws acclaim from the community. A true Vedanti-Sufi Sindhi believes in the brotherhood of man.
Such a blessed, peaceful and prosperous community who can never harm anyone, can never vanish from the face of the earth. Yes it can, it may, and it will transform and reinvent itself according to demands of the realities that keep changing rapidly. One can observe Sindhi culture taking a new direction. The socio-political realities are heading towards a new world order and the Sindhi community too is preparing itself to face the challenges and reap the benefits of a global culture emerging very fast in front of our very eyes. One can observe many efforts by well meaning Sindhis for just such an overhaul of Sindhi culture. The international Sindhi Sammelans, of which the last was held in Jakarta, is one such honest effort to renew and reopen the gates of Sindhi culture for the youth. These annual events go a long way to redefine Sindhi culture in its modern avatar by inviting young Sindhis to their agenda. Then there are many individuals who have taken upon themselves for the cause of Sindhiat. There is Ms Asha Chand of Sindhi Sangat who makes television software – "Sindhi Surhaan" and single handedly carries on the mission in the right spirit towards the right direction. Another capable lady, Ms Koshi Lalwani met with good success in her venture of a Sindhi film which she produced and directed herself. Ms Anila Sunder, with her dance troupe, that makes magic on the stage and is sought after by the community. Mr. Ghansham Vaswani keeps bringing out newer albums of rare Sindhi music, and now even his daughter released a lovely album called Jhulelal. Sita Sindhu Bhavan with the indomitable Chawla couple continues its mission at the center. Indian Institute of Sindhology grows stronger by the day, and its founders and their comrades continue to put their heart and soul and sweat into the promotion and preservation of Sindhi culture.
Other Sindhi brave hearts like Ram Jawhrani, Ranjit Butani and Chander Manghnani have kept the flame of Sindhiat burning with their varied talents and efforts. The Matlani brothers have worked wonders in the Sindhi education field in a short span of time. Sindhi leaders like L K Advani and Ram Jethmalani have always been available, supportive and ready to help out with their blessings. There are countless small and big Sindhi Sangats that do an overwhelming job to promote Sindhi culture effectively. Government support too is reasonably good with state Sindhi assemblies and the NCPSL at the center doing their bit of publishing Sindhi literature and successfully holding Sindhi events. In a short article like this it is not possible to name more than few individuals and organizations but the evidence shows that in all major cities and towns in India and abroad Sindhiat is alive and flourishing.
As we said in the beginning Sindhi community is blessed by both hands of God. Rich in tradition, peaceful by nature and prosperous by sheer hard work, a Sindhi has done well and need not fear any harm befalling him. Yes Sindhi language may disappear. These are the hard realities for many languages today. Urdu is dying. Even in Pakistan, where it is supposed to be the official language, its use is dwindling by the day and there are various efforts afoot to save it from extinction. Dogri the language of the Kashmiri people is fast declining in use and numbers. Back home Marathi is facing usage crisis with many Maharashtrian families choosing to send their children to English medium schools. Marathi films are seeking extra privileges from theatre owners to reserve shows exclusively for Marathi films. Only Hindi language seems to be excludeded from this crisis and continues to be used by the people of India mainly because of Hindi movies and television. Sindhi language may, in the years to come, be out of use, but Sindhi culture, at home and at festivals will continue to grow by the efforts of Sindhi souls.
Culture is a dynamic phenomenon which is always being shaped and formed by forces of reality. Sindhis are perhaps the very first people of the world to be known as global citizens. They have been traveling and living in distant lands since ages. Yet Sindhi culture is alive and flourishing everywhere. Only now it has taken a different, newer and modern shape which is quite natural.
 A SHORT BIOGRAPHY OF LIFE
We humans live life on two planes simultaneously. One has been called the inner plane and the other the outer plane. The subjective and the objective. The known and the unknown. I have, for the sake of better understanding, called one the 'newspaper', and the other simply as the 'other'. Lets proceed further.
We live our entire life surrounded by the words, the noise, the outside events, in short the 'newspaper'. A newspaper covers all our life from extra income to eclipse. It helps you and guides you to live in an informed and intelligent way. It makes it all easy for you. A newspaper helps you to get a loan to buy your home, helps you to decorate it and run it by getting you a well paying job. Then it will help you to find the right match, a budget wedding, budget honeymoon and even gives you tips for right asana to produce a son. Then the newspaper helps you to find the right school for your kid, an economical tutor along with all the other paraphernalia of a city bred family with European manners and global opinion.
Newspaper knows it all. It tells you of the distant Galaxies as well as a celebrity divorce in your own neighborhood even before you hear of it. Like a CCTV in every balcony, the newsperson is present ever where 24x7.All your thoughts, feelings, opinions, ideas and experiences are informed and shaped by the newspaper without you realizing it. By highlighting the brothers' bitter battle over family assets or by playing up the torture by in-laws on the desi-bahu, the newspaper helps create the changing values of society by defining culture and its tamasha.
So it's the newspaper that makes a man out of you !It guides you like a friend, sharpens your mind like a Master, and gives you opinions on everything under the sun, from  disease to Divinity, from sex to superconsciousness.You consult your newspaper to find you the best apricot jam or the most respected fame astrologer. It's all there. In fact I've seen an old widower replacing his wife with a newspaper; he makes out with it for hours every day, busy and excited! In the absence of a good family doctor in her vicinity, a house wife finds equally effective health tips from her 3 rupee eveninger. I have seen retired bankers get the same high from financial supplements as if they are actually present at the Wall Street. I've seen a lonely youngster take one of those dailies to sit and chat with it in the coffee shop. I've seen a beggar buying a 2 rupee newspaper, reading it the whole day and spreading it as a bed sheet and sleeping on it the whole night.
This is the story of newspaper, our every day life. And then there is the story of the 'other'. For want of a better word to describe it we have simply called it the 'other'. You won't find the 'other' in the newspapers. Not at all. The newspaper cannot even begin to name it. The newspaper is too busy for that feel of the 'other'. The 'other' begins where the newspaper ends. If the newspaper is all the words of the world, the' other' is all the silence of the universe. If the newspaper makes history, the 'other' lives in Mythology. If the newspaper makes scandals, the 'other' makes no sound. If the newspaper is about breaking news, the 'other' is about breaking free. Newspaper informs, but the 'other' transforms. If the newspaper is a slice of life, the 'other' happens to be the whole fruit!
Because the life in the newspaper is so engaging, absorbing and exciting that we don't look for the footprints of the 'other'. The 'other' is the very ground on which our newspaper life stands. It is the seed from which all our food comes, our tomatoes, our babies and our Galaxies too. It is the big zero from which all the billions come tumbling out and return to. The 'other' is the womb of life from where all forms are made and to which all forms return. It is the thirst quencher in the water. It is the warmth in our blood. It is the constant and continuous heart beating in the universe. It is the trembling in an orgasm. It is the total silence of a dreamless sleep. The dance of trees in the rain. The shimmer in the dew on the glass panes. The clash of thunder and the conflict of planets. It is how the birth and death happen, on their own. It is beyond all our training, culture, knowledge, happiness, sadness, love and hate. All our riches and poverty don't matter to it. In one word, it is a mystery.
Sages always abide in the 'other'. Rest of us don't even know if it exists. Rarely some one falls in rhythm with it, but only momentarily, again to be swept away by the newspaper. Perhaps nature does not want us to know of it, to have a glimpse into the infinite. For us the daily newspaper Is all the life, all the light, all the fun.
So this is the story of the newspaper and the 'other', a sort of a short biography of life. Having spoken of the newspaper and the 'other', well now let us do away with this duality and throw it to the winds. Let us now meet earth with the sky and create a monastery in the market place. After all sages too read newspapers, they also look at their watch and decide to go for a walk, they also ride a cab and pay by the meter…well, more or less !